Hawkeye Fan Shop — A Black & Gold Store | 24 Hawkeyes to Watch 2016-17 | Hawk Talk Monthly — May
Editor's Note: The following first appeared in the University of Iowa's Hawk Talk Daily, an e-newsletter that offers a daily look at the Iowa Hawkeyes, delivered free each morning to thousands of fans of the Hawkeyes worldwide. To receive daily news from the Iowa Hawkeyes, sign up HERE.
By MADISON PETERSEN
hawkeyesports.com
IOWA CITY, Iowa — The University of Iowa women's gymnastics team closed its season with a list of awards and school records.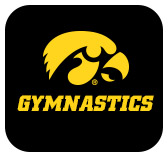 "When we look back at the season, the one thing I can say is I don't have any regrets," said UI head coach Larissa Libby. "I don't think regrets exist for any of us this season. We broke almost every record, had an amazing development of a loyal fan base, the kids were recognized in the community, and the GymHawk name became branded."
 
Iowa finished its season at the NCAA Regionals in Champaign, Illinois, with an overall record of 25-11 and a conference mark of 13-5.
 
The GymHawks placed third at both the Big Ten Championships (196.725) and NCAA Regionals (196.050). Senior Angel Metcalf and freshman Clair Kaji went on to compete at the NCAA Championships as individual qualifiers.
 
"We were in contention for a lot of things this year, and in the past, we haven't always been," said Libby. "Our overall mission was to be recognized as a serious contender for qualifying for a national championship and to be taken as a threat at the Big Ten Championships. People are starting to recognize the Iowa name as a serious competitor."
 
The GymHawks broke the school record on beam at the NCAA Regionals with a score of 49.600. They also recorded the second-best score on floor in Iowa history with a 49.525 against Iowa State, and they tied the fifth-best school record on uneven bars with a score of 49.325 twice this season.
 
Seven GymHawks made their way into the record book by registering 11 top-10 school records in the events of uneven bars, beam, and floor.
 
The Hawkeyes list of awards this season is even longer than their list of broken records.
 
A record five GymHawks were named All-Big Ten during the regular season, and three gymnasts were named to the All-Championship team at the Big Ten Championships. Junior Melissa Zurawski was named Big Ten Gymnast of the Week, while both Kaji and freshman Charlotte Sullivan garnered Big Ten Freshman of the Week honors twice this season.
 
Outside the gym, nine GymHawks were named to the All-Big Ten Academic Team — the most gymnasts to receive this honor since 2010. Libby was tabbed as Big Ten Coach of the Year for leading the GymHawks through this historic season.
 
"Being named Coach of the Year was exciting," said Libby. "There's no better situation to be recognized by your peers. The Big Ten is a difficult conference and some of those teams have been the best for a long time."
 
The honor means a lot to Libby, who was quick to sing her team praises for the season's accomplishments.
 
"You don't get those awards without having great teams," she said. "I was Coach of the Year because my team made me look like the Coach of the Year. I love my job, my athletes, and my assistant coaches, and I love working with them. I'm so grateful and so appreciative. "
 
One thing is certain — after this historic season, the future looks bright for the GymHawks.
 
"We are a pretty complete program from top to bottom with gymnastics, academics, life skills, and so in that respect, I look forward to the future," said Libby.