IOWA CITY, Iowa – – Three-game mini-packs for select University of Iowa football games will be available through the UI Athletics ticket office, beginning at 9 a.m. (CT) on Monday, June 12, and promotional days for selected home games have been announced.
The mini-packs will be available for $185 and include attending three of the seven home games on the 2017 schedule.  Beginning June 5, fans can sign up to receive more information at hawkeyesports.com/swarm17.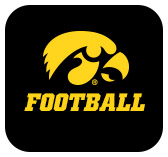 One of the mini-packs includes the home game vs. defending Big Ten champion Penn State (Sept. 23), while the other includes the Nov. 4 contest against Ohio State, a team that participated in the College Football Playoff last season. 
Along with selecting either Penn State or Ohio State, a second option includes either the Homecoming game vs. Illinois (Oct. 7), or the battle for Floyd of Rosedale vs. Minnesota (Oct. 28).  The third option includes selecting one of the three remaining games vs. Wyoming (Sept. 2), North Texas (Sept. 16), or the home finale vs. Purdue (Nov. 18).
"Hawkeye football mini-packs have been some of the more popular ticket packages for our fans," said Charlie Taylor, UI associate athletics director.  "Fans can guarantee their seats for Penn State and Ohio State, while getting two additional games on the home schedule for one low price."
The opening game of the season will be part of FryFest Weekend and a Salute to Iowans, as the Hawkeyes will salute Iowans from around the state for their hard work, passion and commitment to the Midwest values of the Hawkeye state.
Iowa's home game vs. North Texas is designated as the Gold Out for Cancer Research, as fans are encouraged to wear gold to support cancer research.  It will also be Spirit Squad Day and Extra Yard for Teachers Day, as Iowa salutes teachers from around the state.
Iowa's Big Ten opener against Penn State will serve as the annual America Needs Farmers (ANF) game, presented by Iowa Farm Bureau, and the Black and Gold Spirit Game, with fans encouraged to wear either black or gold attire, depending on their seat location.
Homecoming against Illinois (Feb. 7) is being presented by Athletico, while the clash with Minnesota for Floyd of Rosedale is Family Weekend presented by the Eastern Iowa Airport.
Iowa will host Military Appreciation Day sponsored by Wellmark, on Nov. 4 as the Hawkeyes meet Ohio State, a participant in the College Football Playoff last season.  The game vs. Ohio State is also Blackout Saturday, with fans encouraged to wear black.  The home finale against Purdue is Senior Day, presented by the University of Iowa Community Credit Union (UICCU).
Start times for home games vs. Wyoming (11 a.m., BTN), North Texas (2:30 p.m., ESPN2) and the Homecoming battle with Illinois (11 a.m., TBA) have been announced.  The starting time for remaining home games will be announced no later than 12 days prior to the game date.
Any of the four remaining home games may be selected for prime time.  Television networks in 2017 have the option to identify prime time games up to 12 days in advance of a particular contest.
Iowa opens the 2017 season Sept. 2, hosting Wyoming.  In addition to Illinois, the Hawkeyes host Big Ten opponents Penn State (Sept. 23), Minnesota (Oct. 28), Ohio State (Nov. 4), and Purdue (Nov. 18) as the home slate features five Big Ten opponents.  Penn State won the Big Ten title a year ago, while Ohio State participated in the College Football Playoff.  Both Wyoming and North Texas competed in bowl games to conclude their seasons.
Single-game tickets are not available at this time. Questions concerning the purchase of 2017 football tickets, including general public, UI faculty/staff and UI student seasons tickets by current UI students, should be directed to the UI Athletics Ticket Office. The office is open weekdays from 9 a.m. to 4 p.m. The office telephone number is 1-800-IA-HAWKS. Information is also available at hawkeyesports.com/tickets.