Hawkeye Fan Shop — A Black & Gold Store | 24 Hawkeyes to Watch 2016-17 | 2017 Football Season Tickets | Hawk Talk Monthly — May 2017 | KinnickEdge.org | A VIDEO — A Look Toward the 2017 Season | Signing Day Central | 2017 NFL Draft Central | VIDEO — Josey and his patent
By CHRIS BREWER
hawkeyesports.com
 
IOWA CITY, Iowa — As great as it is to be a Hawkeye, it's just as great to be surrounded by them.
 
That was the message delivered Wednesday when members of the University of Iowa football team met the media on Day 3 of summer workouts.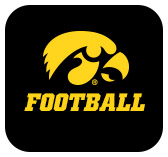 "We've had some time off, which is needed and great, but you get the itch to get back at it and get going," said junior defensive end Parker Hesse. "I'm excited to be here and I think everyone feels the same way."
 
The Hawkeyes had a three-week break from the end of graduation ceremonies until the start of summer workouts on Monday.
 
Some went home. Some traveled. Some bought puppies. Three weeks is a long time, and absence makes the heart grow fonder.
 
"It's great to be back and see everybody," said senior Ike Boettger. "It's been fun so far."
 
The fun for some, like senior Josey Jewell, is in the work. Before summer workouts begin, players have a chance to recharge and clear their mind with relaxation and recreation. But when summer workouts roll around, the golf clubs, fishing poles, and euchre games get replaced by ropes, tire flips, and 60-yard shuttles.
 
"We're back with team members, back with coaches, to get stuff started off right," Jewell said. "(During the break) you have to stay in contact with people around here. You can't forget football totally. You have to keep it in the back of your mind the whole time. Defensive plays. Defensive schemes. Reminding yourself that you have to come back and keep yourself in shape all the time."
 
Jewell and Boettger said the itch to return to camp didn't always need scratched during their days as underclassmen, so when the Hawkeye freshmen report to summer camp June 12, it's on the veterans' shoulders to integrate the youth movement into the system.
 
"I liked time away when I was younger," Jewell said, "but now I understand to be a great player, get better, and be the best player you can possibly be, you need to be here as often as possible."
 
"The freshmen roll in Monday," Boettger said. "It will be a big change for them and it's our responsibility to show them what it's about."
 
This summer what it's all about is getting faster, stronger, and building comradery prior to the season.
 
"Everybody is ready to get back to work," Boettger said. "We all know what it takes. It's a matter of doing it, coming together as a team, and getting ready for the season."
 
The Hawkeyes open the season Sept. 2 hosting Wyoming at 11 a.m. (CT) at Kinnick Stadium. Season tickets are on sale now. Three-game mini-packs are available June 12. Visit hawkeyesports.com or contact the UI Athletics Ticket Office over the phone at 800-IA-HAWKS for more information.