Hawkeye Fan Shop — A Black & Gold Store | 24 Hawkeyes to Watch 2016-17 | Hawk Talk Monthly — May 2017
 
IOWA CITY, Iowa — Molly Rouse has been named interim assistant coach with the University of Iowa soccer program, head coach Dave DiIanni announced Monday.  She replaces Erica Demers, who took over as the head coach at UAB in May.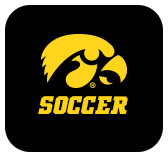 "We feel fortunate to add an individual like Molly to our program," said DiIanni. "She is engaging and endearing to others, balanced by an incredible competitive streak to win and teach the game of soccer. She has risen through the collegiate soccer ranks and she is a person who builds her success through hard work, passion, and commitment.
 
"We love that Molly has a great sense of what it takes to win in the Big Ten from her highly acclaimed college career at Minnesota." 
 
Rouse joins the Hawkeyes after stints at Omaha (2017), Buffalo (2015-16), and Alabama State (2014).  She is familiar with the Big Ten Conference, having starred at Minnesota from 2007-10.
 
"I am thankful for this opportunity to become a member of the University of Iowa women's soccer program," said Rouse. "I am excited to work with and learn from coach DiIanni as he continues to building a competitive standard and a championship culture. I am eager to return to the Big Ten and I look forward to helping elevate the Hawkeyes within the conference and on a national scale."
 
Rouse's time in Omaha was brief, as she was hired as an assistant coach in March. Prior to making the move to the Midwest, Rouse served two seasons at Buffalo and one season at Alabama State. 
 
During her season with the Lady Hornets, Rouse coordinated recruiting and worked with the midfielders. She helped lead ASU to an 11-10 overall record and a 7-3 conference mark, while advancing to the semifinals of the Southwestern Athletic Conference Tournament.
 
Before joining the collegiate coaching ranks, Rouse served two years as a high school assistant coach at Shattuck-St. Mary's in Minnesota. She assisted in all aspects of the program's development, which went beyond her primary duties with the U18 team.
 
As a player, Rouse was a two-time All-Big Ten selection for the Gophers, helping lead the team to two NCAA Tournament appearances in 2008 and 2010. During her four-year career, Minnesota made a pair of Sweet 16 appearances, and she served as the team captain during her junior and senior campaigns.
 
Rouse continued playing professionally following graduation, competing for the Minnesota Kings and Vancouver Whitecaps in the Women's Premier Soccer League.
 
Rouse graduated with a bachelor's degree in early childhood education with a minor in child psychology and an emphasis on American Sign Language from the University of Minnesota in 2010. She currently holds a U.S. Soccer Federation (USSF) National "B" License.