Hawkeye Fan Shop — A Black & Gold Store | KinnickEdge.org | Hawkeyes in the NFL | A VIDEO — A Look Toward the 2017 Season | 2017 Football Tickets
Editor's Note: The following first appeared in the University of Iowa's Hawk Talk Daily, an e-newsletter that offers a daily look at the Iowa Hawkeyes, delivered free each morning to thousands of fans of the Hawkeyes worldwide. To receive daily news from the Iowa Hawkeyes, sign up HERE.
By BREANNA KELLOGG
 
IOWA CITY, Iowa — For fifth-year University of Iowa wide receiver Matt VandeBerg, life is changing both on and off the field. While returning from an injury is challenging enough, he also got promoted to a new position — husband — and added a miniature schnauzer, Tuddie, to the mix.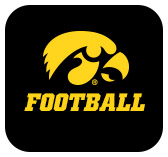 "I'm not going to say my personal life has changed too much," said VandeBerg. "I've been living with Laura for a year. Now I wear a ring.
 
"We got Tuddie shortly after the bowl game. Tuddie is short for touchdown. She's a ball of fire. After practice I get food, nap, and then take Tuddie to the dog park. I let her run around so she'll come back and sleep. I'm becoming a man."
 
While his life off the field looks a bit different since his marriage on May 19, his return to the field is on track.
 
The native of Brandon, South Dakota, is cleared to play the 2017 season as a medical redshirt. After being sidelined for a majority of the 2016 season after suffering a Jones fracture that affects the fifth metatarsal at practice on Sept. 26, he suffered the same injury in February. While he was not able to participate in spring drills, he is ready to come out and work hard this summer.
 
"Matt's recovery is going well; we expect to get him back and that will be a big plus for us," said UI head coach Kirk Ferentz. "Outside of Matt, this is a young and inexperienced group.  The good news is that they can all make a lot of improvement and growth, and they are going to need to do that.  I think they will in time, but we are not there yet."
 
VandeBerg's approach to leading the group of inexperienced wide receivers is to lead by example. When he first stepped on the field at Iowa his job was to catch the ball, run a few routes, and block. That has not changed. The key to this group's success is to understand what their job is. Once they know and understand what they are expected to do, everything else will fall into place.
 
With a leader like VandeBerg this inexperienced group of student-athletes will know exactly what it takes to succeed on the field.
 
"Based on our depth, we will give all four of the new guys a chance to compete; we'll see who can fit in and make the adjustments," said Ferentz. "Matt was able to do it when he came in, and historically we have had some young receivers play. We may look like Fran's (McCaffery) basketball team last year, playing a number of young guys with a senior. We'll see how it goes; I look forward to bringing the young guys along."
 
As his new roles continue to develop on and off the field, the new Mr. and Mrs. VandeBerg know and accept his priorities.
 
"I take off the ring when I'm (at the Stew and LeNore Hansen Football Performance Center)," said VandeBerg. "I'm married to football when I'm here and Laura knows that."
 
Three-game mini-packs and single-game tickets (Wyoming, North Texas, Illinois, and Purdue) are on sale now via hawkeyesports.com/swarm17.