Hawkeye Fan Shop — A Black & Gold Store | KinnickEdge.org | Hawkeyes in the NFL | Hawk Talk Monthly — June 2017 | A VIDEO — A Look Toward the 2017 Season | 2017 Football Tickets
Editor's Note: The following first appeared in the University of Iowa's Hawk Talk Daily, an e-newsletter that offers a daily look at the Iowa Hawkeyes, delivered free each morning to thousands of fans of the Hawkeyes worldwide. To receive daily news from the Iowa Hawkeyes, sign up HERE.
By ALEX SNYDER
hawkeyesports.com
 
IOWA CITY, Iowa — As a senior offensive lineman, Sean Welsh is no stranger to the trenches, and he knows the work he puts in now will prepare him for battle this fall.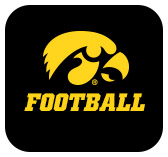 "The summer is big time for strength and conditioning, especially the conditioning," Welsh said. "We do a lot of running, fundamentals with skills, and drills on Wednesdays. It is a good time for sharpening your techniques heading into camp.
 
"It's unique because we don't have helmets and we don't have pads in the summer, we are only doing 1-2 sessions of skills and drills every week. It is our individual work, fundamentals, pass protection, and run protection. That's what we work on."
 
Welsh, a three-year letterman, has 35 career starts. A third-team All-Big Ten honoree in 2016, Welsh will use his experience both on and off the field to integrate the younger generation of Hawkeyes, helping them get acclimated to the University of Iowa football program.
 
"I try to be a good example to the underclassmen," said Welsh. "I try to help them out with the technical stuff as well as stuff off the field, giving them tips here and there. It's a big jump from high school to college football. You have to be a good example and help them out a little bit."
 
While strength and conditioning is critical, the time Welsh and his teammates spend outside of the Stew and LeNore Hansen Football Performance Center is just as important. Team bonding off the field comes full circle when you're playing for the same team and the same goal.
 
"We only work for eight or nine hours of training," Welsh said. "The rest of the time we watch film or are doing things together as a team. I think the more of that the better, that's what the summers are about.
 
"Outside of the complex we go bowling or I will go golfing with a few guys every now and again. It still gets competitive, but we tend to back off a bit because we get plenty of competition with football. It's really just the nature of being a competitor."
 
Welsh will graduate in December with a degree in communications. Until then the Springboro, Ohio, native is focused on preparing to enter the trenches for a final time this fall. Iowa welcomes Wyoming on Sept. 2, at 11 a.m. (CT) at Kinnick Stadium to open the 2017 season.
 
The UI Athletics Ticket office is now accepting orders for three-game mini-packs, while single game tickets for games versus Wyoming (Sept. 2), North Texas (Sept. 16), Illinois (Oct. 7), and Purdue (Nov. 18) are now on sale. The mini-packs are $185 and include attending three of the seven home games on the 2017 schedule. Fans can learn more information and purchase mini-packs and single game tickets at hawkeyesports.com/swarm17 or by calling 1-800-IA-HAWKS.