Hawkeye Fan Shop — A Black & Gold Store | 24 Hawkeyes to Watch 2016-17 | June 2016 Hawk Talk Monthly
Editor's note: 24 Hawkeyes to Watch is a feature released Monday, Aug. 1, highlighting one athlete from each of the 24 intercollegiate sports offered by the University of Iowa. More than 700 talented student-athletes are currently busy preparing for the 2016-17 athletics year at the UI. Hawkeyesports.com will introduce you to 24 Hawkeyes who, for one reason or another, are poised to play a prominent role in the intercollegiate athletics program at the UI in the coming year.
By JAMES ALLAN
hawkeyesports.com
IOWA CITY, Iowa — It was fitting when together Nils Hallestrand and Robin Haden became University of Iowa graduates.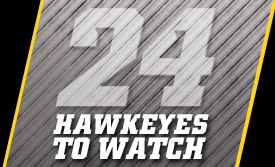 During their two seasons in Iowa City, the Danderyd, Sweden, duo was inseparable. They lived together, enrolled in many of the same classes in the Henry J. Tippie College of Business, and they were teammates on the Hawkeye men's tennis team.
 
It makes sense; the Iowa teammates grew up playing at Akademi Bastad Gymnasium, where they were among the top men's players in Sweden.
 
"We have been best friends since we were 5-years-old," said Haden. "We were rivals when we were young in Stockholm and went to the same school in elementary. We didn't go to the same high school, but we've been playing at the same club since we were 14."
 
When it came to continuing their collegiate careers, they went their separate ways — at first.
 
Hallestrand took his talents to the University of Iowa following high school; Haden went to Mississippi State.  Two years later, Haden wanted a change and his best friend was one of the Hawkeyes' lead recruiters.
 
"(Robin) was also visiting Oregon, but I was the one that made him visit here," said Hallestrand. "It came down to Oregon and Iowa; I think I did my part in luring him here."
 
Hallestrand was right.
 
"Nils being here was one of the key elements because he had the inside knowledge and could tell me about the program and school," said Haden. "That was the biggest reason I came (to Iowa). I was looking for a change and what Nils told me sounded perfect."
 
Hallestrand joined the program in 2013 following a season where the Hawkeyes won seven duals but went winless in Big Ten play.  In the next two seasons, Iowa won nine and 14 duals and Haden joined the team in 2015-16.
 
The Hawkeyes continued building, winning 12 duals in 15-16 and 14 in 2016-17.  The team became more consistent and more "big wins" followed. 
 
"We continued improving our results," said Hallestrand. "When we came in, we peaked at No. 55 in the (Intercollegiate Tennis Association) rankings.  Every year we played a tougher schedule and had good wins."
 
Iowa defeated Michigan in 2014-15 and peaked at No. 33 nationally a year later.  In 2016-17, the Hawkeyes opened the year with a victory over top 10 foe Texas Tech at the ITA Kickoff. 
 
Hallestrand cherishes the memories he had as a Hawkeye and as a student.
 
"I am going to miss going to class every day and meeting people on campus," he said. "I met a lot of people that I will stay in touch with."
 
Haden is excited to keep tabs on his teammates from a distance and continue following everything Hawkeye.
 
"The guys on the team are my closest friends, so it's tough leaving them," said Haden. "I will stay in touch and follow them and other sports, too. I fell in love with Iowa and Hawkeye sports. I didn't know much about American football before college and now I am going to have to stay up late in Sweden to watch college football games."
 
"This experience has been great," said Hallestrand. "I couldn't ask anything more in terms of academics or athletics. I am happy with my experience at the University of Iowa and I wish I could do it again."
 
Now that they are college graduates, both Haden and Hallestrand are planning on moving back to Sweden to put their degrees to use.
 
They'll likely live in the same city and meet at the local tennis courts because, well, why wouldn't they?
 
"We're on the same page," said Hallestrand. "It has become a common bond for us."