IOWA NAMES 2017 FOOTBALL LEADERSHIP GROUP
IOWA CITY, Iowa – – The University of Iowa football program has named 18 players to the 2017 Leadership Group.  Head coach Kirk Ferentz announced the group Thursday.
The group includes all 17 seniors and junior DB Brandon Snyder.  The purpose of the group is to assist in formulating policies and being involved in team decision-making throughout the year.  Players are selected by a team vote.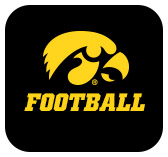 "Our success is a product of the leadership provided by this group on an annual basis," said Ferentz.  "The input and leadership is valuable to our entire program throughout the entire year, not just during the fall season.  Our older players are a valuable resource to our younger guys and set a great example of our expectations."
The group consists of seniors DL Nathan Bazata, OL Ike Boettger, LB Bo Bower, DL Daniel Gaffey, DL Jake Hulett, LB Josey Jewell, LS Tyler Kluver, FB Drake Kulick, OL Boone Myers, LB Ben Niemann, TE Peter Pekar, DB Miles Taylor, WR Matt VandeBerg, RB Akrum Wadley, LB Kevin Ward, OL Sean Welsh, and TE Jon Wisnieski, along with junior DB Brandon Snyder.
The 2017 Hawkeye Leadership Group includes:
Nathan Bazata                          DL                   Senior                           Howells, Nebraska
Ike Boettger                              OL                   Senior                           Cedar Falls, Iowa
Bo Bower                                 LB                   Senior                           West Branch, Iowa
Daniel Gaffey                           DL                   Senior                           Iowa City, Iowa
Jake Hulett                               DL                   Senior                           Springville, Iowa
Josey Jewell                              LB                   Senior                           Decorah, Iowa
Tyler Kluver                             LS                    Senior                           Marshalltown, Iowa
Drake Kulick                            FB                    Senior                           Muscatine, Iowa
Boone Myers                            OL                   Senior                           Webster City, Iowa
Ben Niemann                            LB                   Senior                           Sycamore, Illinois
Peter Pekar                              TE                    Senior                           Greendale, Wisconsin
Brandon Snyder                        DB                   Junior                           Larchwood, Iowa
Miles Taylor                              DB                   Senior                           Silver Spring, Maryland
Matt VandeBerg                       WR                  Senior                           Brandon, South Dakota
Akrum Wadley                          RB                   Senior                           Newark, New Jersey
Kevin Ward                              OLB                 Senior                           Homer Glen, Illinois
Sean Welsh                               OL                   Senior                           Springboro, Ohio
Jon Wisnieski                            TE                    Senior                           West Des Moines, Iowa