Hawkeye Fan Shop — A Black & Gold Store | 2017 Football Season Tickets | KinnickEdge.org | Hawk Talk Monthly — June 2017 | A VIDEO — A Look Toward the 2017 Season | Signing Day Central | 2017 NFL Draft Central
By DARREN MILLER
hawkeyesports.com
 
IOWA CITY, Iowa — By all accounts this offseason, the University of Iowa's bread will once again be buttered by a big, physical offensive line.
 
Four of five interior linemen who were instrumental in the Hawkeyes earning the 2016 Joe Moore Award as the nation's top offensive line return. Senior Sean Welsh and junior James Daniels were third-team All-Big Ten and senior Ike Boettger was honorable mention All-Big Ten. Add senior Boone Myers, a one-time walk-on who started 11 of 12 games last season at left guard and left tackle, and you have a formidable crew in the trenches.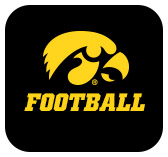 The four O-line returnees are not only experienced with 86 combined starts, but they average 300 pounds (and rising).
 
"We're in that summer phase where we're getting our bodies tuned up and ready to go so we can attack fall camp head on," Myers said Tuesday in the Stew and LeNore Hansen Football Performance Center. "You are trying to get your body in shape for the season, so you have to be strict about what you're eating. Right now we're working hard, we are putting out a lot of energy, and you have to make sure you're fueling it correctly."
 
A year ago the Hawkeyes rushed for 171.8 yards per game — eighth in the Big Ten — and 22 more yards per game than their opponents. Running back Akrum Wadley returns for a final season after picking up 1,081 yards and 10 touchdowns a year ago.
 
"We want to help the team win as many games as possible, so whatever that equates to, that's the only thing we're trying to do," Daniels said.
 
Regardless of their year in school, every Hawkeye veteran on the 2017 roster has experienced a winning season every season they have been in Iowa City. Iowa was 8-5 a year ago after going 12-2 in 2015, 7-6 in 2014, and 8-5 in 2013.
 
Myers essentially arrived in Iowa City from Webster City with a chip on his shoulder. The lightly-recruited high school tight end slid inside on the offensive line and kept a keen eye on veterans like Brett Van Sloten and Brandon Scherff.
 
He watched them on the practice field and game fields, off the field, and in study hall. A few pounds of muscle and a few years later, Myers is now one of the guys to mimic.
 
"I tried to do everything they did and that's what I'm trying to tell these young guys," Myers said. "Watch (the veterans) and if you have questions, ask. Doing what they did is what made them great, so if you do that, you will be on the right track. Find a good role model and emulate everything he does."
 
As much as Myers has grown and evolved, he hasn't removed the chip.
 
"I love playing with a chip on my shoulder," he said. "(My career) has had its ups and downs — injuries, trials, all that stuff. I couldn't have asked for a better experience at Iowa and I'm hoping to cap it off with an even better one."
 
The Hawkeyes open their season Sept. 2 against Wyoming. The game is set for kickoff at 11 a.m. (CT). Fans may purchase single-game tickets or ticket mini-packs by contacting the UI Athletic Ticket Office at (800) IA-HAWKS, or online at hawkeyesports.com.