Hawkeye Fan Shop — A Black & Gold Store | 2017 Football Season Tickets | KinnickEdge.org | Hawk Talk Monthly — June 2017 | A VIDEO — A Look Toward the 2017 Season | Signing Day Central | 2017 NFL Draft Central
Editor's Note: The following first appeared in the University of Iowa's Hawk Talk Daily, an e-newsletter that offers a daily look at the Iowa Hawkeyes, delivered free each morning to thousands of fans of the Hawkeyes worldwide. To receive daily news from the Iowa Hawkeyes, sign up HERE.
By JAMES ALLAN
hawkeyesports.com
 
IOWA CITY, Iowa — University of Iowa senior Akrum Wadley is a returning 1,000-yard rusher and is on the Maxwell Award Watch List, an honor presented to College Football's Player of the Year. 
 
The Hawkeye running back has a pulse on his preseason hype, but it is a way to keep himself grounded. He doesn't want to be a flash in the pan.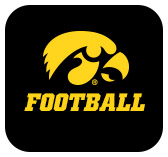 "I keep my eye out for things like that, but it's all about what I am doing now," Wadley said during a Tuesday afternoon media gathering inside the Stew and LeNore Hansen Football Performance Center.
 
"That can get taken away in a split second. I am working on getting better, becoming stronger, and gaining more weight. I am working on my game, things I didn't do last year that can make me a better player this year."
 
Wadley did a little bit of everything as a junior as one of the Hawkeyes' most dynamic weapons. 
 
He led the team with 1,081 rushing yards and 10 touchdowns, averaging 6.4 yards per carry.  He finished with a team-high 78 points and was second on the team with 36 receptions for 315 yards and three touchdowns.
 
But it wasn't long ago that Wadley was trying to make a name for himself after joining the Hawkeyes out of Newark, New Jersey.  A turning point came during a Kinnick Stadium practice during his freshman season.
 
"I was supposed to run a drag route and I went the opposite way," said Wadley."If I would have caught the ball, I probably would have scored on a 50-yard play.  There was nobody there and I went the wrong way.
 
"The quarterback in a real game would have gotten his head taken off, but since it was in practice, I was embarrassed."
 
And his running backs coach let him know about it.
 
Those types of mental mistakes are what Wadley is trying to clean up as a senior. He recalls watching the machine-like focus of Mark Weisman early in his career.  He had good role models in Damon Bullock, Jordan Canzeri, and LeShun Daniels, Jr. — players that were mentally strong and avoided mental miscues.
 
Wadley is now trying to follow suit.
 
"I can't make too many mistakes," he said. "Everybody will make mistakes, we're human, but there are only so many mistakes you can make.  If I am making mistakes and I am at the top (of the depth chart), how will that look to the young guys coming in?"
 
Wadley has 1,763 career rushing yards and 43 receptions for 408 yards heading into the 2017 season opener.  From his perspective, there is more to accomplish.
 
"Every day I have something to prove," he said. "Every day you have to give it your all. There are a lot of people that may think I am good, some may think I am great, and some may think I am too small.  My focus is not getting caught up in the hype or doubters.
 
"It's about doing my best and having fun. A lot of people overlook the fun part. That's what I want to do and what I focus on. I am focusing on no mental errors, having fun, and doing the best I can.
 
The Hawkeyes open their season Sept. 2 against Wyoming. The game is set for kickoff at 11 a.m. (CT). Fans may purchase single-game tickets or ticket mini-packs by contacting the UI Athletic Ticket Office at (800) IA-HAWKS, or online at hawkeyesports.com.