Hawkeye Fan Shop — A Black & Gold Store | 2017 Football Season Tickets | KinnickEdge.org | Hawk Talk Monthly — June 2017 | A VIDEO — A Look Toward the 2017 Season | Signing Day Central | 2017 NFL Draft Central
Editor's Note: The following first appeared in the University of Iowa's Hawk Talk Daily, an e-newsletter that offers a daily look at the Iowa Hawkeyes, delivered free each morning to thousands of fans of the Hawkeyes worldwide. To receive daily news from the Iowa Hawkeyes, sign up HERE.
By RICK BROWN
hawkeyesports.com
 
IOWA CITY, Iowa — Ben Niemann met Josey Jewell on his recruiting visit to Iowa City. First impressions were positive.
 
"He seemed like a hard-nosed kid," Niemann said. "A hard worker."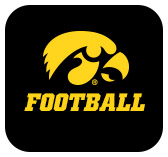 Hard-nosed and hard-headed, as Iowa's starting outside linebacker would find out in the final regular-season game of 2015.
 
Iowa was playing Nebraska in Lincoln, Nebraska, trying to put the finishing touches on an undefeated regular season. Late in the first quarter, Nebraska quarterback Tommy Armstrong, Jr., completed a pass to Terrell Newby out of the backfield. Niemann sniffed out the play and wrapped Newby for a 2-yard gain.
 
Then the lights went out.
 
Jewell saw the play develop, too, and delivered a hit. Unfortunately, he made solid contact with the side of Niemann's helmet.
 
"I went out like a light," Niemann said.
 
Niemann left the game for good with a concussion.
 
"I've told him I have to get him back," Niemann said. "I know it was accidental. It's part of the game. But I'd prefer it wasn't him."
 
That one play offers a glimpse into much of Niemann's career. The senior has started 27 games at linebacker for the Hawkeyes, but he has not been full strength for many of them.
 
Niemann also tweaked an ankle in practice leading up to the 2016 Rose Bowl, and didn't make it out of the first quarter. Then he pulled a hamstring in camp last fall, and struggled to find his rhythm when the 2016 season started.
 
"The first couple of games I was playing with that hamstring pain and I couldn't open my stride and sprint," said the 6-foot 3-inch, 233-pounder from Sycamore, Illinois.
 
He injured a shoulder later in the season, and didn't get close to healthy until the Hawkeyes' 14-13 upset of No. 2 Michigan on Nov. 12 at Kinnick Stadium.
 
"Last year I was not at full tilt the whole time," Niemann said. "But right now my body feels food. The workouts are going well and I'm at full stride. Hopefully I can carry that into this season."
 
Niemann is part of a rock-solid linebacking trio that is Iowa's most experienced group since James Morris, Christian Kirksey, and Anthony Hitchens in 2013. Jewell, the middle linebacker, has 31 career starts.  He was recently named to the Bednarik Award Trophy Watch List. Weakside linebaker Bo Bower has 26 starts.
 
"The thing that's nice is that as you mature, you know what everyone else is doing," Bower said. "You're able to communicate better and understand schemes a lot better. That comes from film study and knowing our defense."
 
Niemann started every game in 2015, but he has learned a lot about the position since.
 
"It's a night-and-day difference," Niemann said. "The game slows down so much for you. Back when you are young, you're trying to figure out what you have to do specifically. Now we know where the defensive line is going to be, and where the people on the back end will be, so we can play off them a lot easier. You just have a better feel for the game in general. Josey, Bo, and I play off each other. We have a feel for where each other is going to be."
 
Niemann said all three senior linebackers are comfortable with their understanding of what is going to happen on the field, but they're not taking their starting positions for granted.
 
"You always want to improve," Niemann said. "You can never get complacent or comfortable because there are guys behind you competing. We're not taking our foot off the gas by any means. Honestly, you can't ever arrive. If you have that mentality, then you're not improving as a football player and helping the team get better. We're trying to get better every day."
 
Niemann's offseason workouts have centered on improving strength, speed, and quickness.
 
"When you're on the sideline and watching everybody else play and those guys are having fun playing with each other, you're missing out," Niemann said. "So that kind of stinks. I want to be full stride this whole year."
 
The Hawkeyes open their season Sept. 2 against Wyoming. The game is set for kickoff at 11 a.m. (CT). Fans may purchase single-game tickets or ticket mini-packs by contacting the UI Athletic Ticket Office at (800) IA-HAWKS, or online at hawkeyesports.com.