Hawkeye Fan Shop — A Black & Gold Store | 2017 Football Season Tickets | KinnickEdge.org | Fight For Iowa | Hawk Talk Monthly — June 2017 | A VIDEO — A Look Toward the 2017 Season
By DARREN MILLER
hawkeyesports.com
 
IOWA CITY, Iowa — An adage head coach Kirk Ferentz has repeated time and time again during his 19 years with the University of Iowa football program is that you can never have too many good players at any position.
 
He said it again Wednesday during a news conference in the Stew and LeNore Hansen Football Performance Center where he announced the addition of running back James Butler to the Hawkeye program.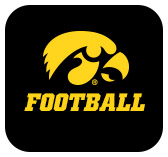 The 5-foot-9, 210-pound Butler is a graduate transfer from the University of Nevada, where he put together back-to-back seasons of more than 1,300 rushing yards. He has one season of eligibility remaining.
 
Iowa already has a luxury in the offensive backfield with the return of senior All-Big Ten performer Akrum Wadley, who rushed for 1,081 yards and 10 touchdowns a year ago. Last season the 1-2 punch of Wadley and LeShun Daniels, Jr., produced 2,139 yards of total offense and 140 points.
 
"It's a good supplement for us," Ferentz said. "To have two guys who have played good college football is a good start. We're enthused about our young players, too."
 
Last season Butler caught 37 passes, Wadley hauled in 36.
 
Butler is originally from Bloomingdale, Illinois, and graduated from St. Francis High School after spending two years at Bartlett High School. Last season at Nevada, there were six games where Butler gained 119-or-more rushing yards. In his final game with the Wolfpack against UNLV, he ran the ball 32 times for 196 yards and three touchdowns. He caught five passes for 48 yards and one touchdown.
 
"We're eager to get him in and get him working with us so we can assess where he will fit," Ferentz said. "That is a position where we have a really good player coming back, but at the same time, we have never had too many players at any position. Running back is a position where you can play a couple guys and realistically have good production. Akrum is a better player if we don't run him 25 times, although if he can do that, that would be OK."
 
It is the second graduate transfer for the Hawkeyes in the past two years. Last season punter Ron Coluzzi joined the program after graduating from Central Michigan. He punted 75 times for an average of 41.1 yards with 24 inside the opponents' 20-yard line.
 
Although nothing is official, Ferentz said there is a possibility of adding another graduate transfer prior to the start of camp July 30.
 
"Potentially," Ferentz said when asked if more transfers would join the team. "There might be something happening in the next couple days, but nothing I can talk about."
 
Ferentz said that whenever anyone new joins the program, his first obligation is the do what is best to make the team better. In this case, the addition of a mature, focused running back should be an asset to Wadley as well.
 
"Our plan is not going to change a lot for (Wadley)." Ferentz said. "As long as he's able to go, he's going to be going. It's a long season and if we have a chance to split carries and touches, that would be great."
 
Ferentz had two other pieces of personnel news: Seth Wallace has been named assistant defensive coordinator and Kevin Spencer has been added to the staff as a quality control assistant. The day-to-day duties for Wallace will not change much. He will continue to coach linebackers, assist defensive coordinator Phil Parker with the input of game plans, and coach the punt team, at least through the fall.
 
Ferentz called the hiring of Spencer a "pleasant, unexpected development." Ferentz and Spencer worked together with the Cleveland Browns from 1993-96.
 
"He has a wealth of knowledge special teams-wise," Ferentz said.
 
Media Day for the Hawkeye football program will be Aug. 5 with Kids Day on Aug. 12. Ferentz and three Hawkeye student-athletes — Josey Jewell, Matt VandeBerg, and Sean Welsh — will be in Chicago from July 24-25 at Big Ten Football Media Days.
 
To read an op-ed piece that Welsh read during Wednesday's news conference, click HERE.