Hawkeye Fan Shop — A Black & Gold Store | 2017 Football Season Tickets | KinnickEdge.org | Fight For Iowa | Hawk Talk Monthly — June 2017 | A VIDEO — A Look Toward the 2017 Season
Editor's Note: The following is an Op-Ed piece from Sean Welsh, a senior offensive lineman for the Iowa Hawkeyes from Springboro, Ohio.  He has 35 career starts and has been recognized nationally for his efforts as a player and a student. The 2017 season will mark Welsh's fourth year as a member of the Iowa Football Leadership Group.
By SEAN WELSH
University of Iowa
 
IOWA CITY, Iowa — My name is Sean Welsh and I'm an offensive lineman for the Iowa Hawkeyes.
On Saturdays in the fall I live life in the trenches at Kinnick Stadium and other venues across the Big Ten. Each week, in front of 70,000 or more cheering football fans, I have the privilege of wearing the black and gold and going toe-to-toe with some of the best defensive linemen in the United States.
Each snap, each series and each quarter are physically and emotionally demanding. But no game or season has ever tested my endurance or attacked my resolve like the challenge that I now face each day of my life.
Depression.
Now I know that some of you reading this will ask – "what in the world does a college athlete like Sean Welsh have to be depressed about?"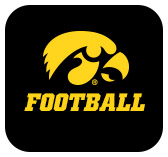 It's a fair question but one that shouldn't be skewed by things like the number of career starts or post-season honors. The simple truth is that it doesn't matter if it's on the football field, in the classroom or in a corporate office – success doesn't immunize you from depression.  
My problems with depression began in 2014 during my second year as a redshirt freshman. As we progressed into the summer program, I had this inkling that something wasn't right. I ate less and isolated myself from teammates.  I spent more time asleep or in front of a TV than I did with people.
Football, the driving force for many years of my life, went from a source of purpose to a source of apathy. I started to feel a myriad of negative emotions: sadness, anxiety, dread and anger. They hit me like a bombardment from the moment I woke up to when I went back to bed.
It was every dimension of terrible. And I kept wondering what was wrong.
My family and I both needed some answers so I went to a therapist where we talked about identity and why I played football. It was like pulling teeth. Up to then, I felt that inner motives or emotions weren't something to be shared – they showed your weaknesses. Plus, I didn't have time for this stuff in the fall. I had a full class load and football on top of it. So I swept my depression under the rug and promised to revisit it after the season.  Which worked…for a while.
I started the 2014 season strong. I cracked the starting lineup and held my own for a few games. However, as the season progressed, I suffered a minor injury and my performance began to decline. I didn't finish the season like I had hoped.
Then everything started to unravel.  When I returned from winter break, all of the familiar symptoms resurfaced. The bottom line is that I didn't care about anything at all. 
Then it got worse.
The week before spring break in 2015, the wheels really came off.  I forgot about classes, missed a midterm and barely survived workouts. It quickly became a downward spiral.  I remember a stretch when I didn't leave my room for three days. 
I hit the eject button, told Coach Kirk Ferentz I wouldn't be able to be with the team that spring and left early to go home. It was a tough decision but it was the right call. 
I started to see a therapist more often and was diagnosed with depression.  I began taking medication and it made a huge difference. And day-by-day, I finally started to feel better.
By late spring, I improved enough to work out on my own with the help of Iowa Strength and Conditioning Coach Chris Doyle.  By summer of 2015, I was working out again with the team. The wind was at my back and I loved football again – I loved life.
2015, with our 12-0 regular season run, was a memorable season for our team – and one of the best and worst years of my life. Since then, it hasn't always been smooth sailing.  Last summer, I struggled again and spent the first part of the 2016 summer camp away from the team.  But in the course of a week, with the help of a lot of good people, I was able to get past it. 
Now, I am about to approach my final summer camp and last season as a member of the University of Iowa football team. I look forward to this year like no other. I recently shared my story with my Hawkeye teammates and our coaches – their understanding and support will stay with me well past my playing days.
So why is it important to share my story with you?
I now know that my depression is genetic and that I will always have a predisposition to it. This isn't the end of my relationship with depression but so far I've learned a lot about my condition.
First off, depression doesn't discriminate. You can have everything working in your favor – a strong upbringing, a loving family, a promising future – and depression can turn it upside down.
It can make your successes feel unimportant and your problems seem monumental. It made me feel empty, like I had nothing.
But it also galvanized me. It gave me a perspective that I never would have gained without it. Depression also taught me pure, visceral humility and that I need to be honest with myself and others about how I feel.  Without the support of my family, Coach Ferentz and his staff, my teammates and my friends – I'm not sure I would've gotten off the mat.
Finally, and this is the most important thing I would like you to take away from this, if you think you suffer from depression, see someone. If you suspect a loved one suffers, get them the help they need. And if you know of someone struggling with depression be understanding and caring – you will make a world of difference.