Hawkeye Fan Shop — A Black & Gold Store | 2017 Football Season Tickets | KinnickEdge.org | Fight For Iowa | Hawk Talk Monthly — June 2017 | A VIDEO — A Look Toward the 2017 Season | Signing Day Central | VIDEO — Josey and his patent | Photo Gallery | VIDEO — Josey Jewell | From Pain Point to Patent-Pending
Editor's Note: The following first appeared in the University of Iowa's Hawk Talk Daily, an e-newsletter that offers a daily look at the Iowa Hawkeyes, delivered free each morning to thousands of fans of the Hawkeyes worldwide. To receive daily news from the Iowa Hawkeyes, sign up HERE.
By DARREN MILLER
hawkeyesports.com
 
IOWA CITY, Iowa — Josey Jewell was comfortable and content in Decorah, Iowa, on the farm that has been in his family more than 140 years. A mile away sits Luther College, a Division III institution where his mother, two sisters, and brother attended and starred as athletes.
 
Decorah, the county seat of Winneshiek County with a population of nearly 8,000, is home for Jewell and it would take a special situation to pry him from Northeast Iowa.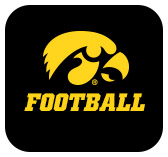 "When I was growing up, Luther was the expected college to go to," Jewell said. "A lot of people around Decorah go to Luther and I had a family connection there. When I was younger, I never wanted to leave — I was fine with staying here."
 
Luther head football coach Mike Durnin attended the same church as the Jewells and coached Josey's older brother, Robby, who was an All-Iowa Conference defensive back from 2011-13.
 
"I got to know the family very well," said Durnin, who is now an assistant coach at the University of Dubuque. "With their work ethic, you knew every one of them had success written all over their foreheads."
 
But there was something about Josey that stuck out.
 
"You could tell he was as tough and hard-nosed of an athlete as anybody," Durnin said. "I started paying attention to him from day one, he was that good."
 
Jewell played basketball, track and field, and baseball for Decorah High School, but he was particularly adept at football. His high school coach, Bill Post, elevated Jewell to the Viking varsity early in his sophomore season. Decorah was state runner-up when Jewell was a junior in 2011 and went 14-0 and won a Class 3A state championship in 2012.
 
"You could see he was going to be a fine football player because he has a nose and instinct for the football," Post said. "He is a physical guy and a game player; he practices hard, but it's like another person emerges when the game starts."
 
A couple things kept Jewell off the radar of many Division I football programs. First, his 6-foot, 190-pound frame seemed better suited for Saturdays on the gridiron in Pella, Waverly, or Storm Lake, rather than Iowa City, Ames, or Cedar Falls. Second, he was such a versatile athlete that coaches had difficulty projecting a college position. After all, in the 2012 state championship game, Jewell rushed 23 times for 160 yards and three touchdowns, caught a pass for 23 yards, and completed his only pass attempt for 32 yards. On defense he made five tackles and intercepted a pass.
 
University of Iowa assistant coach Reese Morgan has spent 17 seasons uncovering gems in small towns across the Midwest. He made a few trips to Decorah and liked what he saw from Jewell. Plus, the Hawkeyes have historically done well with recruits from the area: Lon Olejniczak (1979-83), Bill Broghamer (1983), Jason Olejniczak (1990-93), and most recently, Brett Van Sloten (2010-13), a tall, skinny tight end who matured into a starter on Iowa's offensive line.
 
Jewell grew up a fan of the Hawkeyes' hard-nosed, run-first philosophy that emphasized physical defensive play. He loved watching Pat Angerer, James Morris, Christian Kirksey, and Anthony Hitchens.
   
 You could see he was going to be a fine football player because he has a nose and instinct for the football. He is a physical guy and a game player; he practices hard, but it's like another person emerges when the game starts. — Bill Post, Jewell's high school coach
"I didn't think I was going to get a scholarship until the week before signing day," Jewell said. "I had it set in my mind I was going to Luther until Iowa offered. That was probably the best decision for me to go there."
 
Durnin understood. That's life at the Division III level and he always envisioned big things for Jewell.
 
"I knew he had a chance to be successful and it didn't bother me if he ended up going to a larger school. More power to him," Durnin said. "There are intangibles at every level and those intangibles are sometimes hard to measure. But through years of being around young people, you get a feeling that, 'OK, this guy can make a difference, I don't care what the size or speed.' Certain guys have enough grit, effort level, and tenacity for the game, you know they have a pretty good chance of being successful."
 
So Jewell began the 130-mile trek from his home in Decorah to his new home in Kinnick Stadium.
 
"As soon as I got there they started feeding us, so I started gaining weight," said Jewell, who has put on nearly 45 pounds since his high school playing days. 
 
Coincidence or not, he was issued jersey No. 43, the same number worn by the 6-foot Angerer, one of his idols, who played four seasons in the NFL and was fourth in the league in 2011 with 148 stops.
 
"Josey wanted to play Division I football and nobody gave him much of a shot," Post said. "Once word got out about the kind of player he was, I think Iowa was pretty happy it got him."
 
Amen to that. But despite being surrounded by Van Sloten and high school sweetheart Micole Lansing in Iowa City, Jewell admitted to early bouts of homesickness: You could take Jewell out of Decorah, but you couldn't take Decorah out of Jewell.
 
He redshirted in 2013 and earned a defensive team leader award. In 2014, Jewell played in 11 games at linebacker, starting four, and was Iowa's most valuable player in the TaxSlayer Bowl against Tennessee.  As a sophomore in 2015, Jewell started all 14 games and led the Hawkeyes with 126 tackles. He was named second-team All-Big Ten and a permanent defensive team captain.
 
Last season, Jewell started all 13 games and again led the team in tackles with 124. He was a repeat selection on the All-Big Ten second unit and earned a spot on three All-America teams. Jewell was one of five finalists for the Butkus Award as the nation's best linebacker, permanent defensive team captain, and most valuable defensive player.
 
Inspiration for Jewell comes from failure, not success.
 
"There are a lot of negative things that motivate me," Jewell said. "I still look back at the Big Ten Championship Game (a 16-13 loss to Michigan State on Dec. 5, 2015) and think about how we lost, what we could have done. Or lost bowl games, games in the middle of the year or the beginning of the year. Like (a 23-21 loss at home to North Dakota State) last year — I think of those games to fuel myself. I think about why we didn't win; I could have pushed myself or I could have helped push the team harder. Those things have made me try to be better every day."
 
Something else that incites Jewell is the way Iowa ended its last four seasons: A loss to LSU in the 2014 Outback Bowl, a loss to Tennessee in the 2015 TaxSlayer Bowl, a loss to Stanford in the 2016 Rose Bowl, and a loss to Florida in the 2017 Outback Bowl.
 
"You want to end strong, you want to end with a win and that's something we haven't done as a program for a while, so we haven't finished the season right," Jewell said.
 
Jewell will graduate in December with a degree in enterprise leadership. He proposed to Lansing in March and the couple is planning a wedding in July of 2018.
 
There promises to be plenty of exciting Hawkeye football before Jewell receives a diploma and exchanges vows. His final season in a Hawkeye football uniform begins with fall camp July 30; Iowa's 2017 season-opener is Sept. 2 against Wyoming. Jewell knows his senior season will go quickly and after five years, he is now comfortable and content in Iowa City.
 
"It comes down to us as players and how we want to end it," Jewell said. "We need to stay focused on finishing the season strong and sending the players out by winning a bowl game."