Hawkeye Fan Shop — A Black & Gold Store | 2017 Football Season Tickets | KinnickEdge.org | Fight For Iowa | Hawk Talk Monthly — June 2017 | A VIDEO — A Look Toward the 2017 Season | VIDEO — Behind the Scenes | B1G Media Day Photo Gallery
By CHRIS BREWER
hawkeyesports.com
 
CHICAGO — On a day when seven head coaches and 21 student-athletes traded microphones in front of the national media, it was a piece of paper that made the most noise at the opening session of the 2017 Big Ten football media day.
 
Page 42 of the Hawkeye football media guide was released Monday morning, and one quarterback was listed ahead of another. Sophomore Nathan Stanley, he of nine career passing attempts, is listed atop the depth chart ahead of Tyler Wiegers, a junior with four career passing attempts.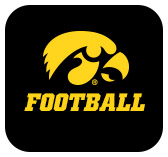 Both quarterbacks enter 2017 with small bodies of work, and both enter training camp with a chance to be the opening day starter, no matter their line-item placement.  
 
"Don't read into it, please," UI head coach Kirk Ferentz told reporters at the McCormick Place Convention Center in Chicago. "I don't want to discard anyone on the depth chart."
 
The dean of NCAA football coaches has seen starting quarterbacks emerge from beyond the depths of even the two-deep (see Chuck Hartlieb in 1987), and for that reason both Stanley and Wiegers will share snaps with the first-team offense when camp opens Sunday in Iowa City.
 
"You have to (split reps)," Ferentz said. "Because in our mind we don't have a number one right now."
 
Wiegers was backup to quarterback C.J. Beathard in 2015. Stanley arrived on campus the next spring and eventually jumped ahead of Wiegers on the depth chart. When Beathard played his final game at the 2017 Outback Bowl, it looked like Stanley, the only quarterback besides Beathard to take a snap last season, would be the next man in.
 
"Coming out of camp last year we thought that Nathan had the edge, but that's ancient history. That's 11 months ago," Ferentz said. "The biggest thing that has changed is C.J. is not here. You just never know until a guy gets on the field and gets the opportunity, what he's going to do with it.
 
"The good news, if you're big into tendencies, is we've done okay with new quarterbacks and I hope we can keep that going."
 
Ferentz won his first Big Ten title in 2002 with first-year starter Brad Banks. In 2004, first-year starter Drew Tate led Iowa to a share of the conference title. In 2015, Beathard was given the keys to the offense and drove Iowa to the Big Ten championship game and Rose Bowl.
 
All three players were relatively inexperienced when given their first shot to start.
 
"The thing I feel good about, especially with Nate and Tyler, is they're both high caliber, smart guys that prepare," Ferentz said. "You just never know what is going to happen. In 2002 we didn't know what Brad Banks was going to do, and he took off and did a good job.
 
"We're as eager as everyone else to see how this all plays out."
 
The Hawkeyes open the season hosting Wyoming on Sept. 2 at Kinnick Stadium. The Cowboys know who their starting quarterback will be — Josh Allen is expected to be among the top picks in the 2018 NFL Draft — and by the first Saturday of the season, the Hawkeyes will too.
 
"(Wyoming) has an excellent football team," Ferentz said. "They were division champs, and we expect a real tough battle in our first contest. We're going to need to be ready."
 
The season-opener kicks off at 11 a.m. (CT). Single-game tickets go on sale to the general public Wednesday. Tickets are $45 for adults, $25 for youth. To purchase tickets Visit hawkeyesports.com/tickets or contact the UI Athletics Ticket Office at 1-800-IA-HAWKS.