Hawkeye Fan Shop — A Black & Gold Store | 2017 Football Season Tickets | KinnickEdge.org | Fight For Iowa | Hawk Talk Monthly — June 2017 | A VIDEO — A Look Toward the 2017 Season | Signing Day Central | VIDEO — Behind the Scenes | Tuesday Photo Gallery
By DARREN MILLER
hawkeyesports.com
 
CHICAGO — Nearly three months ago, Joel Klatt, a college football and NFL Draft analyst for Fox Sports, became a hero of sorts to fans of the University of Iowa football program.
 
It was May 1 when Klatt defended the Hawkeyes on live television after Colin Cowherd, another Fox Sports personality, called them the fake ID of college football.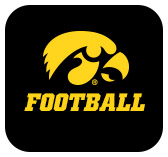 "I would like to say it was some grand plan and it was a great television production, but it was totally spur of the moment," Klatt said Tuesday during Big Ten Football Media Days at the Hyatt Regency McCormick Place. "That day in particular I was just going in to talk about the (NFL) draft. But because I'm a fan of the show, I know exactly what he says about Iowa."
 
Cowherd started praising the San Francisco 49ers and general manager John Lynch for selecting Iowa quarterback C.J. Beathard in the third round and tight end George Kittle in the fifth round. Klatt already knew that Beathard and Kittle were fine football players, but his eyebrows rose when he heard Cowherd admiring the same Hawkeyes he was critical of during the season.
 
"(Colin) starts waxing poetic about C.J. Beathard and George Kittle and what San Francisco did and listen, I think San Francisco's draft was great," Klatt said. "But it struck me like a ton of bricks right there sitting on the couch, I was like 'hold on, you're talking out of both sides of your mouth here.' I decided to call him out because he loves that sort of thing. It was pretty entertaining and I believed it — you can't bag on the program and then all of the sudden praise their players when they go to the National Football League."
 
It wasn't the first time Cowherd tried to boost ratings by bashing the Hawkeyes. He began the stunt in November of 2015 and it has continued until April 24, 2017, when he began selling T-shirts that dissed the Iowa program. Like most Hawkeye fans, Klatt, a three-year starter at quarterback for Colorado from 2003-05, had enough.
 
"Listeners, listen. Hold Colin accountable," Klatt said May 1 when he was a guest on Cowherd's show. "You cannot allow him to praise the 49ers draft because he has been bashing Iowa for two years. You can't get on the bandwagon now. I'm sorry. George Kittle and C.J. Beathard are giving you the finger right now."
 
Klatt remains supportive of the Iowa program and sees the Hawkeyes contending in the Big Ten West Division this season, although he tabs Wisconsin as the favorite among the seven teams.
 
"Iowa is returning players in the spots on their team that (head coach) Kirk (Ferentz) generally succeeds with — in particular on the defensive side, front to back, inside out," Klatt said. "They are always going to be fundamentally sound, that's kind of a hallmark for what they are. They become tough to beat when they play solid defense and they have a good returning corps of running backs."
 
In the Big Ten West, Klatt sees even matchups between the Hawkeyes, Minnesota, Nebraska, and Northwestern.
 
"If Iowa can run the ball and play solid defense, it becomes tough to beat," Klatt said. "I certainly see a scenario where Iowa could win seven, eight, maybe nine games."
 
The Hawkeyes open camp Sunday and play their first game Sept. 2 against Wyoming. The Cowboys are led by quarterback Josh Allen, who passed for 3,203 yards and 28 touchdowns in 2016.