Hawkeye Fan Shop — A Black & Gold Store | 24 Hawkeyes to Watch – 2017-18 | Fight For Iowa | Photo Gallery
 
By JAMES ALLAN
hawkeyesports.com
IOWA CITY, Iowa — It's still the honeymoon stage of the preseason, but University of Iowa head soccer coach Dave DiIanni likes what he has seen from his 2017 Hawkeyes.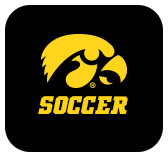 Iowa reported to campus Aug. 1 and the team has through three preseason training sessions to date. DiIanni says the group is starting two steps forward.
 
"We sense a great deal of urgency with this group," said DiIanni, who is in his fourth season. "They are not willing to lower the standard so far, and we've talked about what an acceptable level that we need with the energy, effort, and fitness… all those areas we're happy with."
 
Early in camp it starts with the fitness.  DiIanni says the Hawkeyes are at a strong level early on.
 
"This is the fittest we have been in a fall camp since I've been here in terms of the team average and the readiness to train at a high level," he said. "The effort level has been high and contagious with the girls, and that starts with our senior class.
 
"They have been competing every day; they came in fit and did the work in the summer. I have been happy with the team so far."
 
Iowa has seven seniors on its roster — Madeline Crowdy, Karly Stuenkel, Katharine Woodruff, Tina Cardamone, Laura Lainson, Rachele Armand, and Corey Burns.  It is the team's most seniors since 2014. 
 
"We're excited to be back out here," said Woodruff. "We've been thinking about this and have been working hard all summer. In the spring we improved a lot, so we were worried come fall, we'd take some steps back.
 
"I think we came right back where we were last spring and will keep improving."
 
The excitement of starting a new season will soon subside. DiIanni says the key will be with the team's attitude and effort to push through.
 
"We are in a honeymoon period; soreness hasn't set in yet and we haven't played 11-v-11 yet," he said. "It starts with us, our attitude and focus in training.  Today our training went well because our seniors were good and were competing all the way. 
 
"It's pushing on through the "I'm tired" and everybody being comfortable with their roles."
 
Woodruff can't stress that enough.  Everybody has a role.
 
"We all have something to give, you have to know what you have to give every day," she said. "Everyone has something to sacrifice."
 
"We need to be constantly motivating each other, keeping each other positive and holding each other accountable to what we bring to practice every day," said Stuenkel. "Which is showing up with our best attitudes, wanting to play soccer, and wanting to be coached."
 
The Hawkeyes will play an exhibition contest Aug. 12 at 1 p.m. (CT) at Kansas.  Iowa opens the regular season against Virginia Commonwealth on Aug. 18 in Richmond, Virginia.