Hawkeye Fan Shop — A Black & Gold Store | 2017 Football Season Tickets | KinnickEdge.org | Fight For Iowa | 2017 Football Fall Camp Central
Editor's Note: The following first appeared in the University of Iowa's Hawk Talk Daily, an e-newsletter that offers a daily look at the Iowa Hawkeyes, delivered free each morning to thousands of fans of the Hawkeyes worldwide. To receive daily news from the Iowa Hawkeyes, sign up HERE.
By RICK BROWN
hawkeyesports.com
 
IOWA CITY, Iowa — Brian Ferentz knows he's walking into deeper water as the University of Iowa's newly-minted offensive coordinator and running backs coach.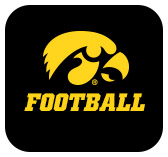 "I call the plays, so I'm responsible ultimately for what happens on the field," Ferentz said at Iowa Football Media Day on Saturday. "It's a lightning rod position, that's not a new development. I don't know that I've ever been the guy who was under the microscope quite that intently, but my job is to do what's best for the football team."
 
When Greg Davis announced his retirement following the 2016 season, Iowa head coach Kirk Ferentz picked the successor from his own coaching tree. And his own family tree.
 
"I haven't looked at this as a dad," Kirk said. "I guess at some point I will. I've been happy for his growth professionally, just like watching any player grow is fun. I also know there are going to be some bumps in the road going forth. He understands that. He has been around the game long enough to understand that until you get hit by something, it's a little different watching it than actually getting hit."
 
And Brian, who was Iowa's offensive line coach the previous five seasons and run game coordinator in 2015 and 2016, will now be getting hit in a different spot.
 
"Absolutely," Kirk said. "And I'll make a prediction. More coming."
 
This is the fourth decade that Iowa football has been a part of Brian's life. From sitting in the stands at Kinnick Stadium as the son of a coach to playing guard and center on Big Ten championship teams in 2002 and 2004 to returning to coach on his dad's staff in 2012 after a stint in the NFL with the New England Patriots.
 
"The keys for us don't change," Brian said. "We're going to be tough, we're going to be smart, we're going to be physical. Most of all, we're going to be competitive in what we do. We don't care who lines up. We're going to attack every snap and do the best we can."
 
One thing will likely change. Brian plans to call plays from the sidelines. Davis called the game from the press box.
 
"We've given it a lot of thought, and I've given it a lot of though personally, and I think there's real benefits to being on the field," Brian said. "In fact, Greg was the first play caller I've ever been around as a player or coach who was in the box, so that was a little new to me."
 
Brian weighed the pros and cons of his decision, and he felt more comfortable being closer to the action.
 
"When you're on the field, things are certainly a little bit more visceral." Brian said. "There's a lot more action and you're more connected to it, which I think can be good as a play caller. There is also good reason to be upstairs, where it is a little more surgical and sterile up there, and you're not attached to the emotion of the game. What I need to find is a good balance for me."
 
Brian is open to changing his mind moving forward.
 
"I have a tendency to become very engaged in what's happening," Brian said. "But if I find out, 'Boy, that's going to hurt us and it's not going to help make play calls, I'll move right back upstairs and do what's right for the football team.'"
 
Brian was on the sidelines the previous five seasons, and he feels being close to the action will be beneficial to his success at calling plays.
 
"For me personally, I like to be able to kind of put my finger on the pulse and I think there's something to be said for being able to look in someone's eyes, and you can see a little bit deeper than maybe just what's happening," Brian said. "I've been a part of a lot of football games where I've seen changes before they manifest themselves on the field. You start to see it swing one way. That's good and bad, and I've been on both sides as a coach. We've been on both sides as a program. There's a feel element (to the job)."
 
Kirk Ferentz is comfortable with Brian being on the sidelines.
 
"I've seen guys do it well both ways, from above and below," Kirk said. "The advantage of being down there is you can read faces a little better."
 
Catching heat is part of the job when best-laid plans go awry.
 
"If you can't handle unwanted results, then you probably need to consider a new occupation," Kirk said. "It comes with the territory. Certainly when you're calling plays, you're not going to be right all the time. Sometimes you call it beautifully and you just don't execute (the play)."
 
And sometimes, a perfectly called defense blows up a play.
 
"Sometimes they call better stuff than you call," Kirk said. "That's part of football. Probably the biggest part of football, actually."
 
A week into fall camp, Brian admits he is not as efficient in his new role as he was as the offensive line coach.
 
"I got more done as a line coach," Brian said. "But I was comfortable being a line coach. I'd done it a long time. I was better at it."
Now he has left his comfort zone for a new challenge, a way to grow in his profession.
 
"It's part of life, it's part of growth, and I think if you want to do anything you need to be willing to do that," Brian said.
 
When things don't go well, you learn from your mistakes and move on.
 
"Really, the biggest thing is learning and gathering information," Kirk said. "It's like losing a game. You figure out what went wrong and then you've got to move on."
 
The Hawkeyes will hold their annual "Kids Day at Kinnick" on Aug. 12 inside Kinnick Stadium.  Gates will open at 11 a.m. (CT), autographs begin at 11:30 a.m., and practice at noon.  Kid's Day festivities will be held in the Krause Family Plaza beginning at 9 a.m.