Hawkeye Fan Shop — A Black & Gold Store | 2017 Football Season Tickets | KinnickEdge.org | Fight For Iowa | 2017 Football Fall Camp Central
By JACK ROSSI
hawkeyesports.com
 
IOWA CITY, Iowa — First-year assistant coaches Tim Polasek and Kelton Copeland are ready to swarm.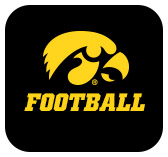 Polasek and Copeland joined the program in February. Polasek took over for Brian Ferentz, who was promoted to offensive coordinator, as offensive line coach, while Copeland was named the new wide receivers coach.
 
From relocating their families to turning their attention to football, the transition to Iowa has been smooth and seamless. That is where most similarities end with one taking over a well-established group on the offensive line; the other is building up a young, inexperienced receiving corps.
 
"You need to take advantage of experience and leverage that," Polasek said of the experience on the offensive line. "What they know and how they work spills over and onto the young guys. A great example for (freshman) Tristan Wirfs is that he has Boone (Myers) and Ike (Boettger) on either side of him."
 
Adding a new coach to the mix during a player's senior year can take some time to adjust, but the Hawkeye offensive line has hit the ground running. Senior Sean Welsh, who is on the Outland Trophy Watch List, has fully bought into their new coach.
 
"We like coach Polasek," Welsh said. "He's a great guy to play for and we're looking forward to our first season with him. With any new coach, they bring a fresh perspective and ideas, whether it is schemes or drill work."
 
As for the receivers, Copeland is searching for the next breakout athlete, and from his perspective, that all starts with giving these young players opportunities.
 
"The opportunity is now," he said. "No matter if you are a true freshman or a veteran. You can't wait for somebody else to do it. If you're ready and willing to get on the field and produce, well the opportunity is now. That is the biggest thing I tell people."
 
Copeland takes over an 11-player group that only has four upperclassmen, including junior Nick Easley, who spent his first two seasons at Iowa Western Community College.
 
"Coach Copeland is the man," Easley said. "He is a great leader, very knowledgeable about the game, and has taught me so much already."
 
Easley thinks Copeland brings something to the table he hasn't had in a coach before.
 
"I can't speak for what they have had here, but I never had a coach that has had as much energy and positivity as him," said Easley. "That has rubbed off on all the guys."
The Hawkeyes will hold their annual "Kids Day at Kinnick" on Aug. 12 inside Kinnick Stadium.  Gates will open at 11 a.m. (CT), autographs begin at 11:30 a.m., and practice at noon.  Kid's Day festivities will be held in the Krause Family Plaza beginning at 9 a.m.
 
Iowa opens the season Sept. 2, hosting Wyoming in its season opener at 11 a.m. (CT). Single game tickets or ticket mini-packs are available by contacting the UI Athletic Ticket Office at (800) IA-HAWKS, or online at hawkeyesports.com/tickets.