Hawkeye Fan Shop — A Black & Gold Store | 24 Hawkeyes to Watch – 2017-18 | Fight For Iowa
By JACK ROSSI
hawkeyesports.com
 
IOWA CITY, Iowa — Claire Graves was thrown into the fire as a freshman on the University of Iowa soccer team and she's better for it.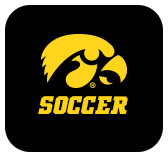 "Last year was an intimidating process for me," said Graves, a sophomore from Noblesville, Indiana. "I lacked experience coming in, but now I know what it takes to have a better season than last year. I feel like I can lead more and step onto the field with more confidence."
 
Graves had a solid season in year one as a Hawkeye, winning eight matches and posting four shutouts.  She had 73 saves and posted a 1.59 goals against average. She had five or more saves in four games and ranked fifth in the Big Ten in the category.
 
"Confidence is the biggest thing I've gained," Graves said. "I cannot let goals in and I can't be an underclassman, I have to be a leader. The biggest thing is to forget my age and know I have experience and lead the team the way I need to."
 
Graves has made it evident to Iowa head coach Dave DiIanni and the coaching staff that she has matured from her inaugural season and she's ready to take the next step.
 
"There is a big learning curve (as a freshman) in terms of how to train and approach the position," Dilanni said. "She has been coachable and open to learning. It's all about her preparation and willingness to learn and that is why she is making strides."
 
Graves leads a trio of Iowa goalkeepers — along with senior Tina Cardamone and redshirt freshman Cora Meyers — into Lawrence, Kansas, for their lone exhibition tune-up.  The Jayhawks advanced to the second round of the NCAA Tournament last season and is picked as the Big 12 preseason runner-up in 2017.
 
"I am looking forward to seeing the team in game action and playing someone other than ourselves," said DiIanni. "I want to see what we've learned in the eight days (of practice). Can we carry what we've done in practice into a game environment where the pressure is different and the opponent is different?"
 
DiIanni knew the game would serve as a good test to start the season.  The two teams met during the spring season, a 1-0 Kansas victory.
 
 "We knew when we scheduled this game that we would have a young team and this would serve as a bench mark," Dilanni said. "This will show where we are good, where we aren't, and where we need to improve. This will be a fantastic game."
 
Saturday's game is set to begin at 1 p.m. (CT) from Rock Chalk Park.  Iowa's regular-season opener is at VCU on Aug. 18; the home opener is Aug. 25 Iowa Corn Cy-Hawk Series showdown against Iowa State.