Hawkeye Fan Shop — A Black & Gold Store | 24 Hawkeyes to Watch – 2017-18 | Fight For Iowa
 
Editor's Note: The following first appeared in the University of Iowa's Hawk Talk Daily, an e-newsletter that offers a daily look at the Iowa Hawkeyes, delivered free each morning to thousands of fans of the Hawkeyes worldwide. To receive daily news from the Iowa Hawkeyes, sign up HERE.
By JAMES ALLAN
hawkeyesports.com
IOWA CITY, Iowa — There was a time when Karly Stuenkel questioned her ability to play soccer at the University of Iowa.  Then she had an epiphany.
 
After playing 12 games and logging 194 minutes during her 2014 freshman season, Stuenkel did some soul searching.  She thought back to her club soccer days in St. Charles, Illinois, when all she dreamt about was playing in the Big Ten Conference.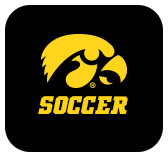 "I had to go back to square one and figure out why I started to play soccer in the first place," said Stuenkel. "Going back to freshman year of high school, I always wanted to do this.  I thought this huge opportunity is in front of me, why am I not taking advantage of it?
 
"That's what motivated me to switch up."
 
The change started with strengthening her mental game.
 
"I knew I was good enough to be playing at the level I am right now," said Stuenkel. "It was a confidence thing and I had to take the summer to figure it out and switch it from my freshman year to my sophomore year.  That's where I started."
 
One of the biggest hurdles was out of Stuenkel's control. It revolved around her 5-foot, 2-inch frame.  As a midfielder, Stuenkel routinely matches up against taller opponents, so she had to find ways to succeed despite her height.
 
"I always think about it, even now," said Stuenkel. "Being in the midfield as a center-mid, there are always balls coming at you.  It's such a central position; everything goes through you."
 
Stuenkel doesn't use her lack of height as a crutch.
 
"I think about what I can do to compensate for what I lack," she said. "I have to make up for it in dribbling speed and quickness. I do other things to make myself matchup to these Big Ten players. 
 
"I have been working on my vertical (for headers), but I know I am not going to win every time. What I have to do is get to that second ball."
 
Iowa head coach Dave DiIanni says Stuenkel's competitiveness is one of her greatest equalizers.  He says there isn't a player who wants to succeed more.
 
"Karly is the most competitive player we have on the team and one of the most competitive I have coached," said DiIanni. "She competes every day in practice and has a will to be better than everybody else. You know you're going to get that every day."
 
It doesn't matter if it's a game of team Jeopardy or Minute to Win It competitions in the spring.  Stuenkel wants to win.
 
"I hate losing," she said. "I have to win; I get mad when I don't."
 
That competitiveness saw Stuenkel go from being a lightly-used reserve in 2014 to a starter as a sophomore.  She was among the starting 11 in 17 games and logged 1,465 minutes. She was named Iowa's Offensive Player of the Year after scoring five goals and tallying two assists.   
 
Stuenkel added to her honors as a junior when she was named Iowa's Co-Most Valuable Player and Offensive Player of the Year.  She started all 19 games and finished second on the team with five goals and four assists. 
 
DiIanni will lean on Stuenkel to provide consistency for a young group of Hawkeyes in 2017.  DiIanni needs Stuenkel to be at the forefront and lead by example.
 
"Her role is to develop the young players on and off the field," said DiIanni. "We look for her to create the competitive environment that is needed to be successful by holding our team accountable and doing the little things right so we can make a jump this year."
 
A jump would consist of getting the Hawkeyes back to the Big Ten Tournament for the first time since 2014.  Iowa won 14 games during that 2014 season and 15 games the two seasons since.
 
"We're seeing the team grow together and we're getting better," said Stuenkel. "The results don't always show it, but when we leave the field, we're moving forward.  This group has had to struggle together, but we've grown together."
 
Stuenkel is taking it upon herself to be a leader.  She's trying to get everyone on the same page, moving toward a common goal.
 
"That's something we have to take upon ourselves as a senior class," said Stuenkel, who is one of seven seniors on the roster. "We have to be leaders. Everybody has to be wanting to win and supporting each other whether you're playing or not.  It's supporting each other and motivating each other constantly."
 
It starts with Stuenkel, the 5-2 mini-giant, and it resonates with the other seniors.
 
"Every year, Karly has gotten a little more comfortable and has proven you don't have to be 5-foot-9 to be successful in the Big Ten," said DiIanni. "She created a believer in me.  The Big Ten is a conference with big, strong athletes; it's a physical conference, but Karly's mind is so quick and fast and she's so technically skilled.
 
"She's competitive in nature, feisty, and has a great deal of stubbornness, which I think is great. Some of the best players have a stubborn streak of refusing to lose or refusing to lower the standards for themselves or her teammates."
 
Her stubborn streak is one of the attributes that has allows Stuenkel to thrive as a Hawkeye.