Hawkeye Fan Shop — A Black & Gold Store | 24 Hawkeyes to Watch – 2017-18 | WEEK 1: VCU | Richmond (PDF)
THE MATCH-UP
The University of Iowa soccer team opens the 2017 season in a pair of games in Virginia.  The Hawkeyes will face Virginia Commonwealth on Friday at 6 p.m. (CT) at Sports Backers Stadium.  Iowa closes out the weekend Sunday at Richmond, facing the Spiders at 12 p.m. at Robins Stadium.  
 
WATCH/FOLLOW LIVE
• Sunday's game against Richmond will be streamed live on the A10 Network/SpiderTV.  This is a subscription-based service.
• Live stats for both contests will be available on hawkeyesports.com by visiting the Iowa soccer schedule page.
• Fans can follow the Iowa soccer program on Twitter (@HawkeyeSoccer) for live game updates.
 
AN EXHIBITION WINNER
The Hawkeyes posted a 1-0 victory at Kansas on Aug. 12 in Lawrence, Kansas.  Senior Karly Stuenkel scored Iowa's lone goal off a header following an assist from sophomore Kaleigh Haus. 
• The Jayhawks, an NCAA Tournament team from a season ago, were picked to finish as the Big 12 runner-up in 2017.
 
QUICK HITTERS
• The Hawkeyes return nine starters and 22 letterwinners from last season.  
• Iowa has 76 percent (19-of-25) of its goal scorers returning, 78 percent (18-of-23) of its total assists, and 63 percent (5-of-8) of game-winning goals.  In the net, the Hawkeyes have 93 percent of minutes returning and players that accounted for 90 percent of the team's saves.
• The Hawkeyes return their team Most Valuable Players (Jenna Kentgen, Karly Stuenkel) and their Offensive (Stuenkel) and Defensive (Morgan Kemerling) Players of the Year from 2016.   Kentgen is out for the season because of injury.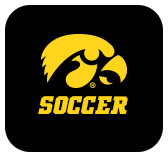 B1G PRESEASON HONOREES
Senior Karly Stuenkel, junior Rose Ripslinger, and sophomore Natalie Winters have been named to the Big Ten Preseason Honors List.  Stuenkel was second on the team with five goals as a junior, Ripslinger scored two goals in 16 games, and Winters was a Big Ten All-Freshman Team honoree.
• The Hawkeyes were picked to finish 12th in a vote of the league's 14 head coaches.
SCOUTING VCU
• The Rams did not compete in any preseason matchups, making the match with Iowa their first this season. 
• VCU has 10 starters returning from last season that won eight matches. 
SCOUTING RICHMOND
• The Spiders open their season on Friday against Longwood.
• Richmond returns seven starters from a team that went 9-9-1 in 2016.
• Last season, the Spiders had the program's best offensive output since the 2014 season, and second-best since the 2002 season when the Spiders reached the NCAA Sweet 16.
 
RETURNEES BY THE NUMBERS
• Iowa has two of its three goalkeepers from last season — senior Tina Cardamone and sophomore Claire Graves. The pair have a combined 1599:59 minutes of game experience.
• Graves collected 73 saves last season.
• The Hawkeyes have four defenders returning from 2016 — seniors Corey Burns and Rachele Armand, junior Morgan Kemmerling, and sophomores Leah Moss and Natalie Winters.
 
THE SERIES
This will be Iowa's first meeting against both VCU and Richmond.
 
MS. USA
Sophomore Natalie Winters has been a mainstay at the U.S. Women's National Team Training Camp.  The Michigan native spent the summer of 2017 competing in various camps and competitions for the red, white, and blue.  She has completed in more than 10 training camps in her career.
 
LEANING ON THE SOPHS
• As a group, the sophomores collected 8,191 minutes of action in the 2016 season.
• Claire Graves started all 19 matches, finishing with 73 saves and four shutouts.
 
TEAM CAPTAINS
Senior Karly Stuenkel has been voted Iowa's team captain for the 2017 season.
 
NEW LOOK COACHING STAFF
Dave DiIanni's fourth year as Iowa's head coach has seen a coaching staff revamp.  Rade Tanaskovic and Molly Rouse have joined the Hawkeyes as assistant coaches.  Tanaskovic came to Iowa City from Louisville, while Rouse, a former All-Big Ten player at Minnesota, came from Nebraska-Omaha.
• Iowa also welcomes a pair of alums to the staff; Hannah Clark, the program's all-time wins and shutouts leader, is volunteer assistant coach, while Aubree Larson is a student assistant.
 
BIG WEEKEND ON THE HORIZON
The Hawkeyes return home Aug. 25 to open their home slate, hosting Iowa State in the annual Iowa Corn Cy-Hawk Series matchup at 7:30 p.m. (CT) at the Iowa Soccer Complex.  Iowa will also host No. 18 Notre Dame on Sunday at 2 p.m.