Hawkeye Fan Shop — A Black & Gold Store | 24 Hawkeyes to Watch – 2017-18 | Fight For Iowa
Editor's Note: The following first appeared in the University of Iowa's Hawk Talk Daily, an e-newsletter that offers a daily look at the Iowa Hawkeyes, delivered free each morning to thousands of fans of the Hawkeyes worldwide. To receive daily news from the Iowa Hawkeyes, sign up HERE.
By JAMES ALLAN
hawkeyesports.com
IOWA CITY, Iowa — Barb (Willis) Randall didn't think playing Division I volleyball was a possibility.
 
Boy, was she wrong.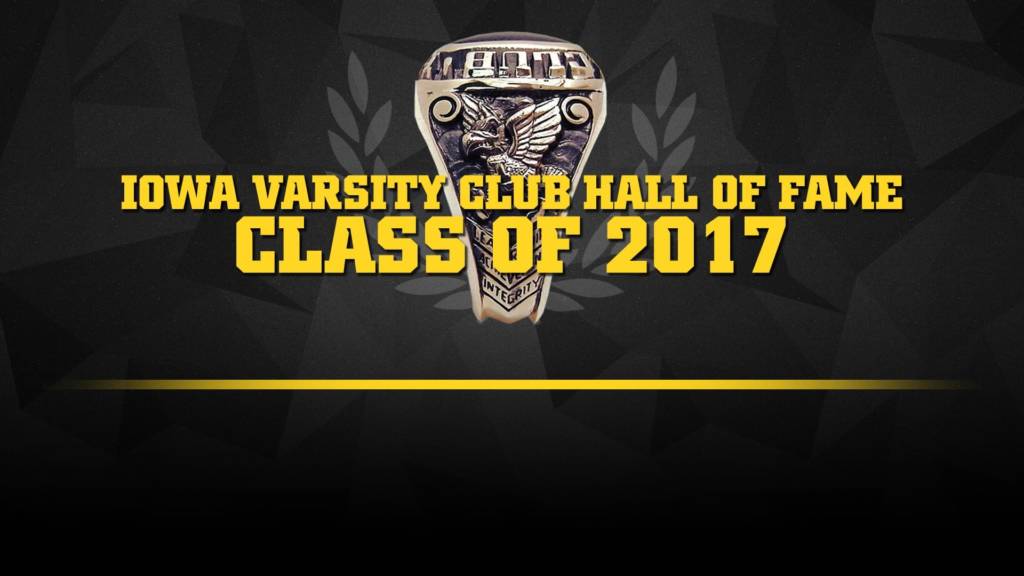 Randall, who grew up in Camanche, Iowa, starred for the University of Iowa volleyball program from 1987-90 and on Sept. 1, she will be one of seven inductees into the National Iowa Varsity Club Athletics Hall of Fame. She is the first Hawkeye volleyball player to earn the recognition.
 
"When I was in junior high, I didn't start," said Randall. "I wasn't this awesome athlete throughout my career.  I was on the bench for most of my seventh-through-ninth grade years, so it wasn't in my realm of possibility to play Division I volleyball.
 
"It wasn't something kids from Camanche did, so I didn't dream of becoming a Hawkeye, because I didn't know I could do that."
 
Randall was a late-bloomer athletically and Iowa head coach Sandy Stewart took notice at the 1986 state tournament during Randall' senior season. Stewart approached Randall to walk-on, but Randall was set on attending Cornell College as a multi-sport athlete.
 
A few weeks later, Stewart called with even better news — a scholarship opportunity. 
 
"I remember my older brother's his reaction," said Randall. "He said, 'Take it and run before they change their mind.'
 
"It was a whirlwind, kind of like it was happening to someone else. It was unbelievable. (In Camanche), we didn't have many kids go to Iowa, so it was amazing to say I was going to be a Hawkeye."
 
During her first season in Iowa City, the Hawkeyes won 17 matches and finished 9-9 in the Big Ten.  Iowa jumped to 24 wins in 1988 and finished second in the Big Ten, but the team was on the outside looking in when it came to the NCAA Tournament.
 
When Randall was a junior, Iowa won 22 matches and posted 12 Big Ten victories to secure the first NCAA Tournament bid in program history.
 
"It was a lot different in 1988; the Big Ten only got two teams into the NCAAs," said Randall. "The first time we got in was the first time the Big Ten got more than two teams.  Now the conference gets like eight bids each year; it has changed so much.
 
"It was amazing to get that bid. There is a lot of pride to being that first class, but I am still a little miffed that we didn't do it again my senior year. If we did it my junior year, we should have been able to do it my senior year. That's upsetting that we couldn't have gotten the school on a roll."
 
Iowa won 19 matches in 1990 — Randall' senior season. Randall ended her career as Iowa's all-time leader in career blocks and still ranks among the top 10 in career kills, digs, and attack percentage. She was a three-time All-Big Ten selection (first-team in 1989 and 1990) and an honorable mention All-American as a senior.
 
Randall' fondest memories as a Hawkeye aren't centered around wins and losses. It was the daily practices and the will to want to improve.
 
"Claudia Lee, our assistant coach, did things with me that you couldn't do today with all the time restraints," said Randall. "She spent hours upon hours in the gym with me working on my arm strength, hands for setting, and back-row defense, because she knew I wanted to play around (the rotation).
 
"Claudia was the one that took a lot of individual time with me and made it all happen."
 
Following her senior season, Randall tested her skills against the best of the best, attending the USA National Team tryouts in Colorado Springs, Colorado.  She was offered an extended tryout in San Diego, and she parlayed that into a 2 1/2-year run as a member of the USA National Team before returning to Iowa to finish her journalism degree.
 
Volleyball has been a constant for Randall. She was a college assistant coach at Purdue, Kirkwood Community College, and Northern Iowa for five seasons, and she currently coaches youth volleyball in Cedar Rapids, Iowa.
 
"If I were doing what my calling is, I would be coaching volleyball," said Randall. "But the lifestyle you lead is not one I am interested in. I am doing volleyball on my time. I do skill development with kids fifth-through-eighth grade and broadcast television work for Northern Iowa matches, high school matches on KCRG 9.2, and call matches at the Iowa State Volleyball Tournament."
 
Randall is a member of the Camanche High School, the Iowa Athletics Girls Union, and Northern Iowa Athletics Hall of Fames, but she says this latest honor takes the cake.
 
"(The Iowa Hall of Fame) is the biggest and best," said Randall. "This is where you put your heart and soul. Iowa is where my heart always was. That's the program that made me."
 
The University of Iowa Athletics Hall of Fame induction will be held inside the Grand Coral Ballroom at the Coralville Marriott Hotel and Convention Center.
 
The induction ceremony and reception is open to the public. Tickets may be purchased online at hawkeyesports.com, over the phone at 800-IA-HAWKS, or at the UI Athletics Ticket Office inside Carver-Hawkeye Arena. For more information please call the Varsity Club office at (319) 335-9438.
 
All former Hawkeye athletes who have won at least one major letter are eligible for the Iowa Athletics Hall of Fame. Athletes must have completed their eligibility at least 10 years and coaches/administrators at least five years prior to their selection.