Hawkeye Fan Shop — A Black & Gold Store | 24 Hawkeyes to Watch – 2017-18
By JAMES ALLAN
hawkeyesports.com
TAIPEI, Taiwan — University of Iowa baseball student-athletes aren't the only Hawkeyes representing the United States in Taipei.
 
Junior O'Shea Wilson arrived for the World University Games on Friday. He'll be competing in the long jump alongside competitors from the University of Houston.  Former Hawkeye Ashley Mariani — a 2017 Iowa graduate — is a member of USA Team volleyball.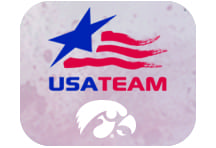 "It's amazing there are so many Hawkeyes here," said Mariani on Friday following the Games' flag raising ceremony. "It has been amazing to see fellow Hawkeyes. We made it; this is international, we're going to have a great time."
 
Wilson parlayed his success from the 2017 season into a spot in the World University Games. He was a second-team All-American in the long jump indoors before earning a spot at the NCAA Championships finals outdoors.
 
"I had a great indoor and outdoor season," said Wilson, who is a Houston native. "I know a lot of the coaches and athletes (at UH) and one of my teammates got in contact with me and asked about me joining the team.
 
"Our coaches talked and I was selected to be on the team. It feels good to represent the United States and Iowa.  This is my first international meet and the first time for me going overseas."
 
Mariani didn't hesitate when approached to represent the red, white, and blue.    
 
"(USA Team) coaches emailed (Iowa head coach) Bond (Shymansky) and asked if I wanted to come do this," said Mariani. "This is a great opportunity to represent the Hawkeyes and United States.
 
"It means everything to represent our country and to give the world a representation of what we're like."
 
Wilson's quest to get to the podium begins with qualification Aug. 26 in Taipei Stadium.
 
"I want to finish in the top three and get on the podium," said Wilson. "I had a good offseason and training prior to this meet. I lost 10 pounds; my body feels great and my technique is great heading into this competition."
 
Mariani takes the court for USA Team on Monday at 2 a.m. (CT).  She's soaking up the entire experience prior to beginning her professional career in Germany next month.
 
"This is amazing," said Mariani. "It set in (Friday morning) when you see your (the USA) flag go up with all the other flags. This means a lot and I'm excited to have a great time with everyone. This is a great experience."
 
USA Team baseball opens play Sunday at 5:30 a.m. (CT), facing Mexico at Tianmu Baseball Stadium.  The game will be streamed at www.livestream.com/fisu.