Hawkeye Fan Shop — A Black & Gold Store | 24 Hawkeyes to Watch – 2017-18 | Fight For Iowa
IOWA CITY, Iowa – – The University of Iowa announced Monday changes intended to improve the safety and game day experience of fans attending Iowa football home games at Kinnick Stadium this fall. Changes include, but are not limited to, a partial closure of Hawkins Drive, a postgame two-lane traffic pattern on Melrose Avenue, single-game ADA parking, and information regarding the UI Hawkeye Marching Band pregame performance in the Recreation Building. A complete list of game day changes and procedures is available at http://hawkeyesports.com/footballgameday.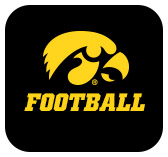 · Beginning two-and-a-half hours prior to kickoff, and for two hours following the conclusion of the game, Hawkins Drive east of Kinnick Stadium will close to vehicle traffic between Melrose Avenue and Evashevski Drive. The street closure allows for additional gates (J, K, L) to be open for entry, providing potentially shorter wait times and a safer environment for fans entering the stadium from the east.
· Following the game, Melrose Avenue will be converted to two lanes for westbound vehicles from Evashevski Drive to the point where Melrose Avenue becomes a four-lane boulevard. In previous years, westbound traffic on Melrose Avenue was limited to one lane from Evashevski to Finkbine Golf Course.
· All ADA parking for Ramp 3 has been sold on a season basis, so those needing ADA parking on a single-game basis should park in Ramp 4. Complimentary ADA golf cart shuttles are provided two hours prior to kickoff and continue until one hour after the completion of the game.
· The Hawkeye Marching Band performance will begin 75 minutes prior to kickoff and last approximately 30 minutes. The southeast and northwest doors to the UI Recreation Building will open two hours prior to kickoff. Fans will be allowed access seating on the west side of the track, as well as the entry/exit lanes to the south of the track. The Recreation Building will be accessible only for the band concert and to access the Bag Drop-Off service. Only sealed bottles of water will be allowed inside the building.
For more details and information related to Iowa football game day — including alternate routes to approach the University of Iowa hospitals and ramps, details on ADA and charter bus parking, Hawkeye Express travel information, and the UI Marching Band Pregame performance — visit http://hawkeyesports.com/footballgameday.