Hawkeye Fan Shop — A Black & Gold Store | 2017 Football Season Tickets | Kinnick Edge | Fight For Iowa | 2017 Football Fall Camp Central
By DARREN MILLER
hawkeyesports.com
 
IOWA CITY, Iowa — Predictably, offensive coordinator Brian Ferentz spent the majority of his time Tuesday answering the how, what, and when of selecting a starting quarterback for Iowa's season opening football game Sept. 2 against Wyoming.
 
While naming a first string quarterback is nearly final, Ferentz indicated that there are 10 other starting positions up for grabs 11 days before the Hawkeyes' first game.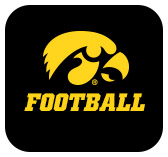 "We have other position battles going on, too, and there are other spots where we're trying to find out who those guys are going to be," Ferentz said in a post-practice interview in Kinnick Stadium. "Every day we're having personnel discussions and trying to put our best 11 on the field."
 
The most glitzy of those positions is quarterback.
 
Last season C.J. Beathard threw for 1,929 yards and 17 touchdowns; he is currently thriving in his first NFL preseason with the San Francisco 49ers. The only other Hawkeye to attempt a pass last season was Nathan Stanley, now a sophomore, who was 5-of-9 for 62 yards. Stanley and junior Tyler Wiegers are neck-and-neck heading into decision day tentatively set for Monday, Aug. 28.
 
"Both guys have done a nice job," Ferentz said. "We're getting closer to a decision. Both guys have competed and made it a difficult decision, but we are coming down the home stretch and we need to do what's best for the football team. We're getting closer to being prepared to do that."
 
Who moves the football effectively is the most desirable quality for Ferentz. Iowa averaged 171.8 yards per game on the ground last season and 153.2 yards through the air — 12th in the Big Ten in total offense.
 
"When you get into a live situation, who finds a way to move the ball and keep the offense moving down the field?" Ferentz said. "Whether it is creating plays with your feet, your arm, extending something in the pocket, all those things tie into who is getting production when they are in there with the first group."
 
Stanley and Wiegers are competent, capable, and competitive, Ferentz said. They are both viewed as leaders by teammates. And regardless of who wins the starting position, Ferentz emphasized the value of the pair.
 
"We would be foolish if we didn't think we would need both guys before it was all said and done," Ferentz said.
 
When it comes to the offensive line, Ferentz is looking for ways to mix young, untested players in with a solid group of veterans who helped the Hawkeyes win the 2016 Joe Moore Award as the nation's best offensive line unit. Specifically, Ferentz was asked about 6-foot-7, 320-pound redshirt freshman Alaric Jackson and 6-5, 315-pound true freshman Tristan Wirfs.
 
"I know we have guys who have played in games, we're trying to find out if we can get a couple more guys pushed forward who haven't played in games and get them into the rotation by week four or five," Ferentz said. "If something does happen, we will feel confident about what we are going to put on the field."
 
At running back, graduate transfer James Butler is expected to step in right away. Ferentz said true freshman Ivory Kelly-Martin has also impressed, including on special teams.
 
"If you're going to have a limited role on offense, then you better have a lot of special teams value," Ferentz said. "Right now he is in the process of earning that."
 
Iowa completed its 20th practice of fall camp Tuesday and Ferentz said the coaching staff has a tentative rotation in mind, while also understanding there is plenty of work to do before kickoff.
 
"We will play the best 11guys we can get on the field at any time and we will get them in as many spots as we can," Ferentz said. "Whether it is a tight end, running back, whomever, we would like to get them on the field. If there are ways to do that that are maybe nontraditional, we are exploring those."
 
Iowa and Wyoming are scheduled for an 11 a.m. (CT) kickoff Sept. 2 from Kinnick Stadium. The Hawkeyes have won their last three home openers and averaged 35.6 points in those victories.