Hawkeye Fan Shop — A Black & Gold Store | 24 Hawkeyes to Watch – 2017-18 | Fight For Iowa | Media Day Photo Gallery | Shymansky Media Day Transcript | Black & Gold Scrimmage Photo Gallery
Editor's Note: The following first appeared in the University of Iowa's Hawk Talk Daily, an e-newsletter that offers a daily look at the Iowa Hawkeyes, delivered free each morning to thousands of fans of the Hawkeyes worldwide. To receive daily news from the Iowa Hawkeyes, sign up HERE.
By RICK BROWN
hawkeyesports.com
IOWA CITY, Iowa — Annika Olsen is one of three captains on Iowa's volleyball team this season. Leadership comes with her position as a defensive specialist.
 
"I'm in charge of the back row, so that comes naturally," said Olsen, a senior libero.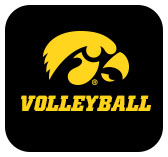 Now in her third season at Iowa after transferring from Georgia Tech, she's had to grow into her leadership role as well.
 
"It takes time to evolve, because it's about respect and trust of your teammates," Iowa head coach Bond Shymansky said. "That doesn't happen overnight. She has such great values, integrity, and character. It was obvious to me she would have what it takes to be a leader. It just took time for her to exhibit that. She's comfortable out there and not afraid to say what needs to be said, but does it with a kind spirit."
 
Shymansky was the head coach at Georgia Tech from 2002 to 2009. And the reputation he left behind is why Olsen landed at Iowa to play for him in 2015.
 
"I had definitely heard about him a lot," Olsen said. "I knew about his coaching style and how successful he was. That made me think about considering Iowa when I decided to transfer."
 
Olsen has played every set in her two seasons at Iowa. With experience have come the leadership qualities Shymansky talks about.
 
"It all comes down to communicating well, and making sure everyone buys into the culture, and buys into the hard work and discipline it takes to be successful in the Big Ten," Olsen said. "It's not an easy conference. But we know it can be done."
 
Shymansky was in his second season at Iowa when Olsen arrived, one of several transfers who have added skill, depth, and experience to the roster. A 19-13 record last season, Iowa's first winning season since 2000, is a sign that players like Olsen have had a winning impact on the program.
 
When Olsen arrived in 2015, the NCAA Tournament was a longshot at best. Now it's a realistic goal.
 
"This year it's way more possible," Olsen said. "It's something definitely within our reach."
 
Getting there will take some good bounces, solid play, and leadership from the upper class.
 
There are seven newcomers on this roster. Four of them are freshmen. The other three are transfers, including highly touted outside hitter Taylor Louis from Marquette and middle hitter Kelsey O'Neill from Pittsburgh.
 
"Kelsey gives us depth in the middle position we didn't have last season," Olsen said. "Taylor Louis, she's incredible."
 
Add the newcomers with the core of returning experience and Iowa's rising program looks to take another step forward in Shymansky's fourth season.
 
"This year we have a lot more depth at every position than we've had before," Olsen said. "I think that helps us, knowing we have so many different players who can contribute in different ways. I think we've all bought into the culture that Bond has been working to create these past few years. I think it's a special group, and we're excited."
 
Iowa embarks on a new season Friday, opening the Long Beach Invitational against Wright State. Matches with defending NCAA champion Stanford and Long Beach State will follow. The Big Ten slate includes 10 teams ranked among the nation's Top 30.
 
"It's my senior season, and a lot of work has gone into this," Olsen said. "I think we have a lot of potential. I'm just excited and ready to get going."
 
Olsen got engaged over the summer to Jonathan Garcia. He was a team manager at Georgia Tech when she played there. They will be married on June 16, 2018. But first comes her senior season, and one more shot at achieving great success in a Hawkeye uniform.
 
"Reaching the NCAA Tournament is something that we're striving for as a team," Olsen said. "It would mean the world to me. It's something I've dreamed of since I was a little girl. Seeing that happen would be incredible."