Hawkeye Fan Shop — A Black & Gold Store | 24 Hawkeyes to Watch – 2017-18 | Fight For Iowa | WSOC: WEEK 2 NOTES (PDF)
THE MATCH-UP
The University of Iowa soccer team hosts a pair of matches this weekend at the Iowa Soccer Complex. The Hawkeyes will face Iowa State on Friday at 7:30 p.m. (CT). Iowa wraps up the weekend on Sunday, taking on No. 18 Notre Dame at 2 p.m. Admission is free to the public. 
• Iowa's match against Iowa State will be the first event in the 2017-18 Iowa Corn Cy-Hawk Series.
 
WATCH/FOLLOW LIVE
• Live stats for both contests will be available on hawkeyesports.com by visiting the Iowa soccer schedule page.
• Both matches will be available to stream live on BTN2GO and BTN's mobile app.
• Fans can follow the Iowa soccer program on Twitter (@HawkeyeSoccer) for live game updates.
 
THE SERIES
• Iowa leads the all-time series over Iowa State, 11-6-2. The Hawkeyes are looking to start a streak over the Cyclones with a win for the third straight season.
• The Hawkeyes have won their last four home matches against Iowa State.
• Iowa and Notre Dame have only met once on the pitch. The Hawkeyes fell to the Fighting Irish in South Bend, Indiana, 4-1, in 2013.
QUICK HITTERS
• The Hawkeyes return nine starters and 22 letterwinners from last season.  
• Iowa has 76 percent (19-of-25) of its goal scorers returning, 78 percent (18-of-23) of its total assists, and 63 percent (5-of-8) of game-winning goals.  In the net, the Hawkeyes have 93 percent of minutes returning and players that accounted for 90 percent of the team's saves.
• The Hawkeyes return their team Most Valuable Players (Jenna Kentgen, Karly Stuenkel) and their Offensive (Stuenkel) and Defensive (Morgan Kemerling) Players of the Year from 2016.   Kentgen is out for the season because of injury.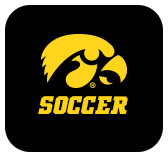 B1G PRESEASON HONOREES
Senior Karly Stuenkel, junior Rose Ripslinger, and sophomore Natalie Winters have been named to the Big Ten Preseason Honors List.  Stuenkel was second on the team with five goals as a junior, Ripslinger scored two goals in 16 games, and Winters was a Big Ten All-Freshman Team honoree.
• The Hawkeyes were picked to finish 12th in a vote of the league's 14 head coaches.
 
SCOUTING IOWA STATE
• Iowa State returns its top three scorers from last season. They return 14 of 17 goals and 10 of 13 assists from last season.
• The Cyclones are 1-1 after defeating Creighton before losing to Missouri last weekend. They also suffered a Big Ten loss during preseason action, falling to Purdue in their only exhibition match.
SCOUTING No. 18  NOTRE DAME
• Notre Dame was crowned the 2016 ACC regular season champs after posting a 13-3-5 overall record. They return nine starters from last season's squad.
• The Fighting Irish tied Butler in their season opener before defeating Ball State, 4-0.
• Sophomore goalkeeper Brooke Littman has recorded two shutouts in two starts for Notre Dame. 
 
RETURNEES BY THE NUMBERS
• Iowa has two of its three goalkeepers from last season — senior Tina Cardamone and sophomore Claire Graves. The pair have a combined 1599:59 minutes of game experience.
• Graves collected 73 saves last season.
• The Hawkeyes have four defenders returning from 2016 — seniors Corey Burns and Rachele Armand, junior Morgan Kemmerling, and sophomores Leah Moss and Natalie Winters.
 
HAT TRICK HAUS
• Redshirt sophomore Kaleigh Haus completed the first hat trick of her career in Iowa's 5-1 win over Richmond last weekend.
• She was able to complete all three goals over 48 minutes of action, with the first coming in the fifth minute off an assist from sophomore Natalie Winters.
• The Hawkeyes haven't seen an athlete score three goals in a match since Katelyn Wiunn did it on October 31, 2003.
MS. USA
Sophomore Natalie Winters has been a mainstay at the U.S. Women's National Team Training Camp.  The Michigan native spent the summer of 2017 competing in various camps and competitions for the red, white, and blue.  She has completed in more than 10 training camps in her career.
 
TEAM CAPTAINS
Senior Karly Stuenkel has been voted Iowa's team captain for the 2017 season.
NEW LOOK COACHING STAFF
Dave DiIanni's fourth year as Iowa's head coach has seen a coaching staff revamp.  Rade Tanaskovic and Molly Rouse have joined the Hawkeyes as assistant coaches.  Tanaskovic came to Iowa City from Louisville, while Rouse, a former All-Big Ten player at Minnesota, came from Nebraska-Omaha.
• Iowa also welcomes a pair of alums to the staff; Hannah Clark, the program's all-time wins and shutouts leader, is volunteer assistant coach, while Aubree Larson is a student assistant.
 
BIG WEEKEND ON THE HORIZON
The Hawkeyes continue their home stand next week against Southern Utah on August 31 at 7 p.m. (CT). Iowa then hits the road on Sept. 3 for a neutral site matchup with UC Santa Barbara in Minneapolis at 11 a.m.