Hawkeye Fan Shop — A Black & Gold Store | 24 Hawkeyes to Watch – 2017-18 | Fight For Iowa
 
Editor's Note: The following first appeared in the University of Iowa's Hawk Talk Daily, an e-newsletter that offers a daily look at the Iowa Hawkeyes, delivered free each morning to thousands of fans of the Hawkeyes worldwide. To receive daily news from the Iowa Hawkeyes, sign up HERE.
By JACK ROSSI
hawkeyesports.com
IOWA CITY, Iowa — Coming off an offensive explosion against Richmond on Aug. 20, the University of Iowa women's soccer team is beginning to see production from its younger players heading into a home tournament against Iowa State and Notre Dame.
 
The Hawkeyes are 1-0 going into their home opener this weekend, after downing Richmond, 5-1, in the regular season opener and defeating Kansas — an NCAA tournament team from a year ago — 1-0 in an exhibition game.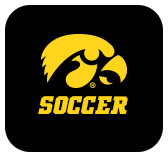 It's another positive sign for a team looking to make noise in 2017.
 
"We're excited about the progress we've made every day in training," Iowa head coach Dave Dilanni said. "We're developing an identity and it has been a process for us."
 
Iowa's victory over Richmond was sparked by redshirt sophomore Kaleigh Haus, who tripled her goal output from a season ago when she recorded a hat trick in 48 minutes.
 
"Kaleigh and quite a few other girls put in a lot of work this offseason," Dilanni said "It's something you see right away through the preseason."
 
The 2017 Hawkeye squad is more athletic than previous teams and has a unique blend of youth and veterans, allowing the team to do things fans haven't seen in a while.
 
"Our forwards were very active," Dilanni said of the victory over Richmond. "A lot of the goals were created off combination plays from the midfield; that's something we haven't had in the past. Seeing this in practice and then in a game is progress."
 
Looking ahead to this weekend's slate at the UI Soccer Complex, Iowa welcomes Iowa State, Minnesota, and Notre Dame for a weekend tournament where Dilanni and his staff will break out the measuring sticks.
 
"This will be a good test," Dilanni said. "Every year we try to get a stronger schedule and have more difficult opponents. That puts us in position to see exactly what we need to do to improve and challenge our girls at a higher level."
 
Iowa's two opponents this weekend — Notre Dame and Iowa State – finished the 2016 season ranked in the top 50.
 
Notre Dame was ranked 16th overall and Iowa State was 48th. Meanwhile, the final team at the tournament — Minnesota — concluded last season as the highest-ranked Big Ten team, sitting at No. 20.
 
"The margin for error is much smaller when you play these teams," Dilanni said. "Our kids are getting used to that and I am excited for them to have another challenge like this."
 
A test for Iowa will be going up against two teams with different playing styles.
 
"Iowa State is going to be a high up-tempo team that pushes numbers forward quickly and Notre Dame is more wide-open and likes to have the ball more than you," Dilanni said.
 
Iowa faces Iowa State in the annual Iowa Corn Cy-Hawk Series on Friday at 7:30 p.m. (CT) and turns around to play Notre Dame on Sunday at 2 p.m. Admission is free.