Hawkeye Fan Shop — A Black & Gold Store | 24 Hawkeyes to Watch – 2017-18 | Fight For Iowa | Photo Gallery | Box Score (PDF) | Boxscore
IOWA CITY, Iowa – The University of Iowa women's soccer team defeated Iowa State, 1-0, with an overtime goal by sophomore Olivia Fiegel in the first event of the 2017-18 Iowa Corn Cy-Hawk Series.
 
Competition was stiff at the Iowa Soccer Complex on Friday night as the Hawkeyes and Cyclones stayed tied at zero over two full periods of play.
 
The instate rivals nearly went shot-for-shot in regular play, with Iowa making 14 attempts at a goal and Iowa State 11.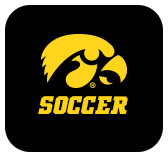 With two minutes left in overtime, Feigel, assisted by senior Karly Stuenkel, drove to the net past an Iowa State defender to score the game-winning goal.
 
KEY HAWKEYE PERFORMER
Feigel has scored three goals in two games for the Hawkeyes this season. She also scored against Iowa State last season when the Hawkeyes traveled to Ames for a 2-0 victory.
 
"As I got the ball and as I took my first head shot I got a little bit nervous," Fiegel said. "But as the goalkeeper stepped out I was like 'Oh my goodness, she's stepping out. I have space.' I calmed myself down and scored the goal."
 
STAT OF THE GAME
The Hawkeyes had four saves on 12 Cyclone shots during 97 minutes of action.
 
QUOTING HEAD COACH DAVE DIIANNI
On sudden death victory over an in-state rival…
"Last year we had a similar set-up where the game was tight. Iowa State does a good job with their program and every game we have played in my four years has been close. It was a game of momentum swings. We had a chance to put them away early on and we did not. They are a good program with a good RPI and they came back. Give our kids credit. They battled right until the end."
 
On momentum from the win…
"This is great. This is a win for the University and for our athletics department. To start off, we took a lot of pride in being the first out of the gate in the Cy-Hawk Series. Everybody made sure they let us know that. It's a great builder for us. We're a young team and these are moments for us to be able to learn from. We could have controlled some of that momentum. We don't have that much time to rest because we have Notre Dame coming up on Sunday and that's going to be another measuring stick for our program and for this year's team moving forward."
UP NEXT
The Hawkeyes host Notre Dame on Sunday, August 27 at 2 p.m. (CT) at the Iowa Soccer Complex.
 
FOLLOWING #HAWKEYES ON SOCIAL MEDIA
Stay up-to-date on the latest with the University of Iowa women's soccer team through social media.  Follow the Hawkeyes on Twitter (@HawkeyeSoccer), Instagram/HawkeyeSoccer, and Facebook/Hawke