Hawkeye Fan Shop — A Black & Gold Store | 24 Hawkeyes to Watch 2016-17 | Fight For Iowa | Photo Gallery | Box Score (PDF) | Boxscore
IOWA CITY, Iowa — The University of Iowa women's soccer team lost, 2-0, to No. 24 Notre Dame (2-0-2) Sunday afternoon at the Iowa Soccer Complex. The Hawkeyes' first loss of the season brings their record to 2-1-0.
 
Iowa held off the Fighting Irish until the 11th minute when Sabrina Flores kicked in the first goal off an assist from Sandra Yu. Within the next minute of play, Notre Dame received a penalty kick that gave the Irish their second goal of the game.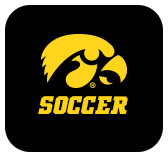 The home team came out strong in the second half, taking six shots compared to the three taken in the first half of action.
 
KEY HAWKEYE PERFORMER
Despite the loss, sophomore goal keeper Claire Graves stopped a season-best six shots on Sunday.
 
STAT OF THE GAME
Iowa saw four student-athletes complete full games Sunday: Morgan Kemerling, Rachele Armand, Corey Burns, and Graves.
 
  
UP NEXT
The Hawkeyes host Southern Utah on Thursday at 7 p.m. (CT) at the Iowa Soccer Complex. Admission is free.
 
FOLLOWING #HAWKEYES ON SOCIAL MEDIA
Stay up-to-date on the latest with the University of Iowa women's soccer team through social media. Follow the Hawkeyes on Twitter (@HawkeyeSoccer), Instagram/HawkeyeSoccer, and Facebook/HawkeyeSoccer.