Hawkeye Fan Shop — A Black & Gold Store | 24 Hawkeyes to Watch – 2017-18 | Fight For Iowa | Media Day Photo Gallery | Black & Gold Scrimmage Photo Gallery | Hawkeye Classic Information
Editor's Note: The following first appeared in the University of Iowa's Hawk Talk Daily, an e-newsletter that offers a daily look at the Iowa Hawkeyes, delivered free each morning to thousands of fans of the Hawkeyes worldwide. To receive daily news from the Iowa Hawkeyes, sign up HERE.
By JACK ROSSI
hawkeyesports.com
IOWA CITY, Iowa — After a successful opener in California, the University of Iowa volleyball team is confident heading into its first home tournament.
 
The Hawkeyes are 2-1 after the Long Beach State Invitational where they defeated Wright State (3-0) and Long Beach State (3-1). Iowa head coach Bond Shymansky saw a lot of positives.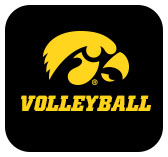 "The California trip was a good weekend for us," Shymansky said. "We got a win at Long Beach State and they have been a perennial powerhouse on the west coast. It was a long trip and a good experience."
 
Junior transfer Taylor Louis wasted little time making an impact for the Hawkeyes, recording a career-high 16 kills in the tournament finale against Long Beach State. She finished with 34 kills and a .382 attack percentage.
 
"She has been nothing short of phenomenal as a hitter, as a blocker, and most importantly as a competitor," Shymansky said. "I see her starting to step out and be a passionate leader and demand the ball out of her setter. She is clearly a go-to, but she is not the only one on the team."
 
Another new face is freshman Brie Orr who played in every set of the opening tournament and handed out 100 assists (10 per set).
 
"Brie has started every match so far," Shymansky said. "She is doing a great job leading the offense and has found her rhythm."
 
But it took time for Louis, Orr, and the rest of the team to get adjusted to the start of a new season.
 
"The first competition was a little shaky at times," Shymansky said. "They tend to get quiet and look around at each other and wonder how they are going to respond in adversity. As the weekend went on, especially in the Long Beach State match, I saw our group assert itself."
 
Orr's final match of the weekend was her best as she exploded to tally 43 assists and nine kills.
 
"By the third match you could see her get a feel for her teammates and get a better understanding for what is happening and become more offensive as an attacker," Shymansky said.
 
Iowa heads into its weekend tournament with high expectations. The team will face Nebraska-Omaha, Coastal Carolina, and Indiana State. Iowa has an all-time record of 11-2 against those three opponents.
 
"The weekend will be great for us," Shymansky said. "All three teams are very different and right now Coastal Carolina may be the premier team, while Nebraska-Omaha has really improved and they have a great setter.
 
"The nice part for us is that they are two doubleheaders, so it's a ton of volleyball and gives us a lot of opportunities to play different players and see different looks as we keep working to find the most beneficial lineup."
 
The Hawkeyes open the Hawkeye Classic on Friday with matches against Nebraska-Omaha (noon CT) and Coastal Carolina (7 p.m.). There is free admission for students.