Hawkeye Fan Shop — A Black & Gold Store | 24 Hawkeyes to Watch – 2017-18 | Fight For Iowa | Hawkeye Classic Information
By DARREN MILLER
hawkeyesports.com
IOWA CITY, Iowa — If you looked past the high top Air Jordan shoes and basketball shorts, it was easy to see a gem of a volleyball player in Taylor Louis.
 
Although tall, lean, and dynamic athletically, Louis arrived late to the volleyball party. As a 14-year-old freshman at Niles North High School in Evanston, Illinois, Louis was introduced to the sport when she tried out for Wildcat Juniors, a club team.
 
The first of three days was a nightmare, in part because Louis showed up better prepared for basketball practice.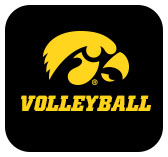 "I wore huge Jordan basketball shoes with no knee pads. I was wearing basketball shorts; I had no idea what was going on," she recalls.
 
When the drills ended, a coach asked Louis for a few more minutes. That's when she learned to take an approach, and after that, she was nothing short of amazing in days two and three of the tryout.
 
Louis could jump out of the gym and attack high above the net with velocity, but there was still much to learn
 
"We watch them when they are kind of Bambi on ice and trying to figure it out," said Iowa head volleyball coach Bond Shymansky. "Taylor was definitely that way. She was long and awkward, not very skilled yet. But she had something in her — you could see the athleticism starting to bloom and the volleyball IQ starting to grow."
 
Louis possessed natural height (6-foot-3), athleticism (her mother, aunt, and cousins were all collegiate athletes), and a powerful right arm.
 
Louis compiled 998 kills at Niles North and was named 2013 Central Suburban League North Player of the Year. She trusted Shymansky and committed to play for his program…at Marquette University in Milwaukee. But shortly after Louis signed with Marquette, Shymansky returned to his hometown to resurrect Iowa's program.
 
After two seasons and 1,148 kills with Marquette (she did not play during a redshirt season of 2014), Louis no longer felt she fit as a Golden Eagle. Word leaked that Louis was looking to switch schools and the sport's top programs started to drool. First on her list of five official visits was the University of Iowa.
 
"We had a long heart-to-heart conversation to make sure there still weren't sour grapes that needed to be swallowed and that she understood exactly why I came home to Iowa and why I wanted to coach here," Shymansky said. "I wanted to make sure she didn't have hurt feelings about being left or abandoned at my previous school."
 
Taylor remembers that initial talk and was ecstatic to realize that the "new" Shymansky at the University of Iowa was identical to the "old" Shymansky who recruited her in high school.
 
"He was the same person, nothing changed. He is a good guy and a father-figure, which is important to me," said Louis, who is from a single-parent home without a father. "I feel it is important to have that relationship with your coach if you want to better yourself as a person and a player. You have to have a coach who supports you."
 
Louis' mind was made up to rejoin Shymansky at Iowa before she left her visit to Carver-Hawkeye Arena on that chilly day in January 2017. She told her mother and brother that Iowa City is where she wanted to finish her college career. Shymansky, walking a few strides behind, overheard the exchange.
 
"Bond was in the back and said, 'What did you just say?'" Louis said.
I have only been playing seven or eight years, so the sky is the limit. There is always something you can get better at. There is always something that can be polished.
— Taylor Louis
It was an awkward moment for Louis; almost as awkward as a 6-foot high school freshman trying to approach a volleyball net for the first time.
 
"I fell in love with Iowa, but I didn't want to (commit) then and there because I had other options," Louis said. "But I think we all knew. It felt so homey when we were leaving that we kind of all knew this is where I wanted to go."
 
Louis cancelled the other four visits and arrived on Iowa's campus in May. She completed two summer school classes and will have two remaining years of volleyball eligibility.
 
Louis has five siblings and a "huge" extended family that includes hundreds of cousins.
 
"Some I haven't met yet," she said. "We have family all around the world — in London, Jamaica, Canada — it is huge. My immediate family, we would support each other because we live close in Illinois — go to each other's games and make a ruckus, because we were always the biggest family there."
 
Louis became a cheerleader because her brother played football and she wanted something to do other than sit in the stands and watch his games. She played basketball, but after sustaining a knee injury as a junior in high school, she decided to focus solely on volleyball. Even then, she was playing catch-up in a sport that most of her peers had begun playing several years before.
 
"I have only been playing seven or eight years, so the sky is the limit," Louis said. "There is always something you can get better at. There is always something that can be polished. I feel I can get as good as I want."
 
Shymansky guided the Hawkeyes to one of the best seasons in program history in 2016 when Iowa finished with a 19-13 record and a 9-11 mark in Big Ten play. It was the program's first winning season and most conference victories since 2000. Similar to the improvement of Iowa volleyball, the rise for Louis has gone from clumsy to dominant.
 
"I want to up my game a little more because I know I can," Louis said.
 
Still, her primary focus is playing team ball and it hasn't taken Louis long to fit in with the rest of the Hawkeyes.
 
"If you aren't getting along on the court then there is no way you can achieve any of your team goals," Louis said. "Teams with better chemistry do better — it's like any relationship, and it is the most important thing to me."
Louis and the Hawkeyes play in Carver-Hawkeye Arena for the first time this season Friday against Nebraska-Omaha, beginning at noon (CT). For more information on the Hawkeye Classic, click HERE.