Hawkeye Fan Shop — A Black & Gold Store | 24 Hawkeyes to Watch – 2017-18 | Hawk Talk Monthly — June 2017
IOWA CITY, Iowa — Heading into the 2017 season, the University of Iowa cross country team's mix of veterans and underclassmen gives the Hawkeyes a foundation to build upon.
 
Head coach Randy Hasenbank's first season at the helm saw Iowa finish its season in the top half of the region on its home course at the 2016 NCAA Regional with the men placing 11th and the women 17th.
 
Heading into year two, the Hawkeyes are better acquainted with Hasenbank's training style.
 
"We all know each other a lot better," Hasenbank said. "The student-athletes understand the training plan and we have now been able to implement our style. They know what to expect and are well-prepared for a cross country season."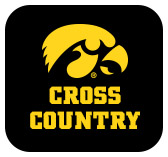 Maintaining continuity in the program is important and the return of senior Marta Gonzalez, sophomore Andrea Shine, and sophomore Nathan Mylenek helps maintain that cohesion.
 
The trio of Hawkeyes look to translate their postseason success from the outdoor season to cross country when they qualified for the NCAA West Preliminary in Austin, Texas.
 
"The people that make it into the first round of NCAAs have an immense amount of talent and that needs to translate well to the cross country season," Hasenbank said.
 
Mylenek took another step forward after the collegiate season. He earned a spot on the Team USA roster in the 3,000-meter steeplechase, the same event he was an NCAA qualifier, and he finished second overall at the Pan Am Games in Peru with a time of 9:00.70.
 
"I expect their accomplishments to provide them with a great platform to get out here during the cross country season and do something they haven't done before," Hasenbank said. "They need to lead this program."
 
Even though the program has young up and coming runners like sophomores Brandon Cooley, Karson Sommer, and Julie Hollensbe, the strength of the program still lies with its upperclassmen.
 
"We're going to lean on our veterans," Hasenbank said. "We have people with experience at a high level. The freshmen and sophomores are going to do well and we expect them to do well, but we will always lean on our veterans."
 
Among the veterans is Madison Waymire, who enters her senior year prepared to return to her 2015 form when she led the Hawkeyes in every race of the season.
"Madison looks great and is very committed," Hasenbank said. "Getting her back to her previous form is important for the success of our program."
 
The Hawkeyes open their season Friday with the Hawkeye Invitational at the Ashton Cross Country course. The women's 4,000 meters begins at 6 p.m. (CT) and the men's 6,000 meters starts at 6:45 p.m. Admission is free.