Hawkeye Fan Shop — A Black & Gold Store | 24 Hawkeyes to Watch 2016-17 | Fight For Iowa | Photo Gallery | Box Score (PDF) | Boxscore
IOWA CITY, Iowa — Sophomore Devin Burn's three-goal hat trick within the first 11 minutes lifted the University of Iowa soccer team to an 8-1 victory over Southern Utah Thursday night at the Iowa Soccer Complex.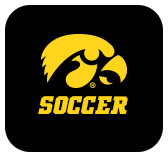 Along side Burns, Sophomores Olivia Fiegel, Sydney Blitchok, Kaleigh Haus, and senior Corey Burns were responsible for the Hawkeyes other five goals. Fiegel recorded two, while Blitchok, Haus, and Corey Burns all had one goal.
 
Iowa gave up one goal in the 38th minute. With the assist from Megan Deherrea, MaKenzie Lawrence was able to score on the Hawkeyes.
 
KEY HAWKEYE PERFORMER
Devin Burns recorded the second Hawkeye hat trick of the season, just two games after Kaleigh Haus registered her first career hat trick against Richmond on Aug. 20.
 
STATS OF THE GAME
Devin Burns ties a school record with 3 goals. Second time this season that somebody has done it after going 14 years without a hat trick.
Iowa tied a school record for goals in a game with eight. That feat has only been done twice (vs. Grinnell, Sept. 20, 1998) (vs. Kent State, Sept. 5, 1997)
Burns ties a school-record with seven points in a game (3 goals, 1 assist) (Katelyn Quinn (10/31/03) – 7) (Beth Oldenburg (9/5/97) – 7)
School record for most points scored in a game (26 points, 8 goals, 10 assists)
QUOTING HEAD COACH DAVE DIIANNI
 "We've been trying to work on the quality in the final 30 yards and to see some of the fruits of our labor come to fruition is exciting. The moral was great coming into tonight's game. They were excited to play and what we've done in practice was replicated pretty well in tonight's game. The ball movement from the back to midfield has always been there for us, it's the final pass, 18-20 yards, that we've been working on and saw a lot of today."
QUOTING DEVIN BURNS
"I knew we had to come out hard tonight, this was a great game to help us get back on track. It feels great to get the goals tonight, it will help in the future knowing that we can put a lot of goals away."
 
NOTABLES
Sophomore Natalie Winters led the Hawkeyes with two assists.
Devin Burns led Iowa with six shots and three goals.
 
UP NEXT
The Hawkeyes return to action for a neutral site matchup against UC Santa Barbara in Minneapolis on Sunday, Sept. 3 at 11 a.m. (CT)
 
FOLLOWING #HAWKEYES ON SOCIAL MEDIA
Stay up-to-date on the latest with the University of Iowa women's soccer team through social media.  Follow the Hawkeyes on Twitter (@HawkeyeSoccer), Instagram/HawkeyeSoccer, and Facebook/HawkeyeSoccer.