Hawkeye Fan Shop — A Black & Gold Store | Fight For Iowa
By DARREN MILLER
hawkeyesports.com
IOWA CITY, Iowa — During his first three seasons at the University of Iowa, Miguel Recinos, a kicker, was 2-for-2 on point-after attempts, 1-for-3 on field goals, and he kicked off twice.
 
His leg was well rested.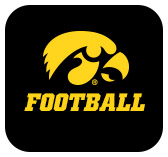 The redshirt junior from Mason City, Iowa, has elevated himself to Iowa's No. 1 kicker this season, a title he didn't earn through attrition. Recinos emerged as the Hawkeye starter by winning a close competition with incumbent sophomore Keith Duncan.
 
During Iowa's 24-3 season opening victory over Wyoming, Recinos was 3-for-3 on PATs and closed the game's scoring with a 44-yard field goal. He kicked off five times for an average of 63.2 yards and three touchbacks.
 
Duncan is an impressive backup. He is coming off a freshman season where he made 38-of-39 PATs and 9-of-11 field goals.  Duncan's 33-yard field goal as time expired lifted Iowa to a 14-13 victory over No. 2 Michigan on Nov. 12, 2016, inside Kinnick Stadium.
 
"Keith and I both kicked well, so I told myself I was going to go out there, kick, and not worry about who was going to be starting," Recinos said. "Just do the best I can because it was pretty close."
 
At Mason City High School, Recinos had career totals of 18 PATs and 10 field goals. Thirty-four of his kickoffs went for touchbacks. But his career started slowly at Iowa. He redshirted in 2014 when Marshall Koehn was Iowa's kicker. Koehn was the kicker again in 2015 and Duncan took over last season.
 
Ironically, it was Duncan's work ethic that inspired Recinos.
 
"Keith gave me a good opportunity to learn; he came in and went about his job," Recinos said. "He is a great guy and I'm good friends with him. I admired him when he first came in here and the way he handled himself. At the time I was building myself back up into the specialist I wanted to be."
 
The secret for Recinos was to simply simplify.
 
"I was doing a lot of stuff that wasn't necessary," he said. "Kicking is a simple thing when you boil it down."
 
The first three seasons were tough for Recinos psychologically. He paid his dues in the weight room, gaining more than 30 pounds that added strength and power to his right leg.
 
"I can hit from distances I never thought of before I came here," Recinos said.
 
In the offseason he also worked on his mental game, taking an objective view of what was working — and not working — in his approach as a Hawkeye.
 
"I took that into spring and improved a lot over the spring and the summer," Recinos said. "It was very much a progression."
 
The first kick of the 2017 season was memorable, and nearly disastrous, for Recinos. Iowa took a 6-3 lead on a 2-yard touchdown pass from Nate Stanley to Noah Fant and Recinos trotted out for the chip-shot PAT.
 
When Recinos is ready to kick, he gives holder Colten Rastetter a subtle nod of the helmet. But when Recinos looked toward the uprights to eye his target, Rastetter correctly called for the football.
 
Recinos wasn't ready.
 
"I shouldn't have been moving my head around," Recinos said. "Of course I look up, snap came in, I saw the corner(back) coming in, slung my arms forward trying to get momentum and kicked it as hard as I could. It swung around him and through the uprights. That was exciting."
 
It also made the next two PATs and field goal seem like a stroll down easy street.
 
"It was a situation I wasn't expecting and I was able to handle it," Recinos said. "By the time the 44-yard (field goal) came around, I had eased into the game. I had several hits by then. Not to say it was an easy field goal, but I had a lot of confidence going into it. It was much more cut-and-dried."
 
Iowa head coach Kirk Ferentz said Recinos was "excellent" and kicked with confidence against Wyoming. He enjoys the luxury of having two competent and experienced kickers on the roster. 
 
"We are going to let those guys compete, and they may both play this year," Ferentz said. "That's very, very possible. And Dunc is doing a good job on the practice field. Right now it's two guys that have been performing well and it's hopefully a good situation for us."
 
Iowa returns to action Saturday against Iowa State in Ames, Iowa. Kickoff for the Iowa Corn Cy-Hawk Series event is set for 11:01 a.m. (CT).