Hawkeye Fan Shop — A Black & Gold Store | 2017 Football Season Tickets | Kinnick Edge | Fight For Iowa
Editor's Note: The following first appeared in the University of Iowa's Hawk Talk Daily, an e-newsletter that offers a daily look at the Iowa Hawkeyes, delivered free each morning to thousands of fans of the Hawkeyes worldwide. To receive daily news from the Iowa Hawkeyes, sign up HERE.
By DARREN MILLER
hawkeyesports.com
 
IOWA CITY, Iowa — Smooth, fast, explosive, and mature are adjectives you might hear when talking about University of Iowa senior running backs Akrum Wadley and James Butler.
 
Wadley and Butler certainly fit that bill, but this week the same monikers were used to describe freshman Ivory Kelly-Martin.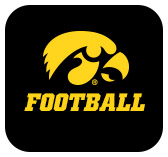 The jump from high school football to college hasn't slowed Kelly-Martin, a 5-foot-11, 195-pounder from Plainfield, Illinois. The No. 1 running back recruit in Illinois last year saw action on special teams during the Hawkeyes' 24-3 victory over Wyoming on Sept. 2.
 
"It felt good to be able to walk out of the tunnel in the swarm," Kelly-Martin said. "I'm looking forward to all the years to come and having a good experience."
 
Kelly-Martin has an extra luxury of learning from Wadley and Butler. That duo combined for 163 rushing yards against Wyoming.
 
"Those two play off each other perfectly," Kelly-Martin said. "I try my best to learn from them and pick up their attributes and skills, whether that is mentally or physically. I want to pick up my game right behind those two."
 
Wadley rushed for a game-high 116 yards on 24 carries against the Cowboys — the 10th time he has surpassed 100-yards in a game in his career. He likes what he sees from his freshman understudy.
 
"Ivory is explosive, fast, and mature," Wadley said. "He's not like your average guy to come right out of high school; he is going to be somebody special."
 
Against Wyoming, Kelly-Martin got his feet wet as a gunner on special teams. His role is expected to increase throughout the season.
 
"He has a chance to be a good special teams guy as a young player," Iowa head coach Kirk Ferentz said. "His role on offense will develop as we go along.
 
"I would describe him as a smooth player. He didn't seem intimidated by the level of play jumping up to college. He seemed unaffected; he went out and played well, whatever we asked him to do."
 
Kelly-Martin began his high school career at Nazareth Academy in LaGrange Park, Illinois; the Roadrunners won a Class 6A state championship when he was a sophomore in 2014 and the Class 5A championship when he was a junior in 2015.
 
In the 2015 title game, Kelly-Martin rushed 13 times for 170 yards and four touchdowns. His second touchdown came on a 96-yard run.
 
Kelly-Martin transferred to Oswego East High School for his senior season. The Wolves advanced to the second round of the Class 8A playoffs before losing to eventual champion Loyola Academy.
 
During his final two seasons of high school, Kelly-Martin ran for 3,396 yards and 58 touchdowns.
 
Even with such a shiny resume, he knew nothing would come easy at the Division I level.
 
"Coming into my first practices I knew I would have to work if I wanted to get on the field," Kelly-Martin said. "Being out there shows that the work I have put in has started to pay off and I'm glad the coaches see it."
 
Iowa returns to action Saturday for an Iowa Corn Cy-Hawk Series matchup against Iowa State at Jack Trice Stadium in Ames, Iowa. It will be the first of many rivalry games for Kelly-Martin.
 
"This is going to be a big game for us and the team going against Iowa State," he said. "I'm looking forward to going on the field and playing our best."