Hawkeye Fan Shop — A Black & Gold Store | 2017 Football Season Tickets | Kinnick Edge | Fight For Iowa
Editor's Note: The following first appeared in the University of Iowa's Hawk Talk Daily, an e-newsletter that offers a daily look at the Iowa Hawkeyes, delivered free each morning to thousands of fans of the Hawkeyes worldwide. To receive daily news from the Iowa Hawkeyes, sign up HERE.
By DARREN MILLER
hawkeyesports.com
 
AMES, Iowa — Two seasons ago when the University of Iowa football team visited Iowa State's Jack Trice Stadium, head coach Kirk Ferentz watched in wonder as junior quarterback C.J. Beathard threw for 215 yards and three touchdowns while directing the Hawkeyes to a 31-17 victory.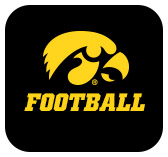 "You come out of that game feeling that this guy has something to him," Ferentz remembers thinking that day.
 
He had a similar thought Saturday when sophomore quarterback Nate Stanley completed 27 passes for 333 yards and five touchdowns during a 44-41 overtime win against the Cyclones.
 
Stanley is the first Iowa quarterback with more than 300 passing yards and five or more touchdown passes since Chuck Hartlieb against Northwestern in 1987. He is also just the second Big Ten quarterback in the last 20 years with 300 or more passing yards, five or more touchdown passes, and no interceptions in a road game.
 
"This is such a tough environment for us to come into and for (Nate) to do that on the road," Ferentz said. "For him to play the way he played in this environment says a lot."
 
Stanley was efficient in a season opening win against Wyoming on Sept. 2. In the first quarter of that game, he was 0-of-4 with an interception. Over the next three quarters he completed 8-of-11 passes for 125 yards and three touchdowns.
 
That was a dress rehearsal to how he dissected Iowa State's defense in his second collegiate start Saturday in the Iowa Corn Cy-Hawk Series.
 
"Everybody fought together and we came out with a good team win," Stanley said. "The whole offense was working well. The offensive line did a great job protecting, the receivers had a great day getting open, and the backs had a great day with the check-downs."
 
Iowa gained 497 total yards — 333 through the air and 164 on the ground.
 
Against Wyoming, Stanley completed passes to three teammates — Nick Easley, Noah Fant, and Matt VandeBerg. Those three remained part of the production against the Cyclones, but also adding receptions were six other Hawkeyes — Akrum Wadley, Ihmir Smith-Marsette, T.J. Hockenson, Drake Kulick, James Butler, and Peter Pekar.
 
That adds up to three wide receivers, three tight ends, two running backs, and a fullback.
 
While Stanley spread the wealth, he covered a lot of ground. Iowa's first five touchdown drives spanned 76, 91, 94, 92, and 89 yards. During those drives, Stanley was 19-of-25 for 296 yards.
 
"We relied on the game plan, techniques, and fundamentals our coaches stress every day," Stanley said. "You trust your teammates to do their job and you do yours. If everybody does their job, then you can be successful."
 
One of the teammates Stanley trusted was Smith-Marsette, a true freshman wide receiver. In his only touch against Wyoming, Smith-Marsette lost a fumble on a jet sweep. At Iowa State, Smith-Marsette ran once for seven yards and caught four passes for 36 yards and two touchdowns. His 5-yard catch in overtime provided the margin of victory.
 
"We had practiced that (game-winning) play all week," Stanley said. "Ihmir did a great job in practice all week, so we just came out and executed it."
 
Of Stanley's completions against the Cyclones, seven went for gains of 10-15 yards, three for 17-20, three for 21-30, and one for 46.
 
"His growth from last week to this week, not that we're done yet, but he did a lot of good things," Ferentz said. "The biggest thing is he looked steady out there and looked like he was right there with the game."
 
Stanley's third start will come Sept. 16 against North Texas inside Kinnick Stadium. The Mean Green are 1-1 on the season with a victory over Lamar and a loss to SMU. The teams first met in 2015 with Iowa winning, 62-16.