Hawkeye Fan Shop — A Black & Gold Store | 24 Hawkeyes to Watch – 2017-18 | Fight For Iowa | VIDEO — Ian Eklin
Editor's Note: The following first appeared in the University of Iowa's Hawk Talk Daily, an e-newsletter that offers a daily look at the Iowa Hawkeyes, delivered free each morning to thousands of fans of the Hawkeyes worldwide. To receive daily news from the Iowa Hawkeyes, sign up HERE.
By DARREN MILLER
hawkeyesports.com
IOWA CITY, Iowa — Following a breakthrough finish to his 2017 track and field season, the days of Ian Eklin sitting back and waiting for races to unfold may be a thing of the past.
 
Eklin, a University of Iowa junior, established a personal-best 10-kilometer time of 29:47.06, placing fourth at the Drake Relays on April 27. It is the sixth-fastest 10K in school history, but was still eight seconds from a qualifying spot to the NCAA West Preliminary. That made Eklin's milestone performance cause for celebration, dejection, and motivation wrapped into one.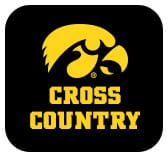 As a freshman, Eklin competed primarily at the faster-paced 1,500-meter distance. Having experience with the quicker turnover needed over the final mile of a 10K proved beneficial as he increased race distances. That "speed training," combined with increased mileage, made for a memorable effort at Drake.
 
"It was one of those races where if I could put it together, I could go sub-30 and I did," Eklin said. "Unfortunately it wasn't good enough to make regionals. I will never forget that, it was pretty harsh, but it fuels the fire for next year."
 
Next year is now for Eklin, who admits he has yet to have a "killer" cross country season. That could change this fall, thanks to his newfound confidence and the resulting success he had on the track. In the season opening Hawkeye Invitational on Sept. 1, Eklin finished 10th with a school-record 6K time of 18:10.7.
 
"One of the things you have to do as a long distance runner, and Ian is kind of a 10K specialist, is putting yourself in position the first couple years by building strength," said Randy Hasenbank, Iowa's head cross country coach. "He no longer needs to sit back. He needs to put himself near the top 25 percent of these big races and get off to a great start."
 
Eklin is a smarter, more seasoned runner than when he first enrolled at the University of Iowa. He understands race pace and strategy. 
 
"That was more of the intimidation factor, coming to Iowa, the Big Ten, a Division I program," Eklin said. "I was never an elite guy, so coming here I had just as many doubts as anybody if I was going to make it. Now that I see I'm able to compete with these guys and beat a lot of them, gives me the drive to take it."
 
Eklin is a two-time letterwinner for Iowa's cross country team. He was one of two freshmen to compete in all six races in 2015 and he followed that by competing in seven of Iowa's eight races a year ago. That adds up to 13 races in two fall seasons and Eklin's consistency is what helps him stand out on the Hawkeyes' youthful roster. 
 
"You can't fake a 10K," Hasenbank said. "What he pulled off late in the spring speaks to the consistency and volume he has put in. He is getting ready to contribute at a high level."
 
Eklin came to Iowa City from Plymouth, Minnesota, where he was a three-time state qualifier in cross country. His high school team — Wayzata — won back-to-back state championships from 2013-14, when Eklin finished 17th and 10th, respectively. Coincidentally, as a senior at the state championship, Eklin finished one spot behind current teammate Bailey Hesse-Withbroe.
 
When it came to competing at the next level, Eklin knew he couldn't go wrong with an education from any of the Big Ten Conference institutions. He has been admitted to the Henry B. Tippie College of Business, where he is majoring in finance, accounting, and Spanish.
 
"Iowa is consistently ranked in the top 100 public universities in the country and that was something that intrigued me," Eklin said. "I realize professional running is probably not the route I am going to go; I'm here for an education. But I found my way here through running and I have loved it ever since."
 
The Hawkeyes are coming off a 12th-place finish at the 2016 Big Ten Men's Cross Country Championships where they scored 341 points. Eklin placed 80th and was second on Iowa's team with an 8K time of 26:15.7. A year earlier he finished 74th and was the fourth Hawkeye in 25:03.8.
 
Five of Iowa's seven competitors at last year's Big Ten Championships return: Eklin, Daniel Gardarsson, Kevin Docherty, Hess-Withbroe, and Daniel Murphy. Senior Michael Melchert should be one of the top Hawkeyes.
 
"Ian and a lot of the young guys in the freshman and sophomore class accomplished quite a bit," Hasenbank said. "He is one of the young guys who can help spearhead this group to the next level — it is their goal and they want it to happen."
 
Individually, Eklin's goal is to finish his junior season in the top 20 of the Big Ten; as a team, he thinks the Hawkeyes can push into the top five. The last time Iowa finished in the upper half of the (10-team) conference standings was in 2006 when it was fifth.
 
"I need to be top 20 in the Big Ten if not the top 15," Eklin said. "Last year my goal was to be top 20 and I missed that dismally. Regionally, I want to be better than top 30 in the 10K. A longshot goal is to make it to NCAAs. That would be incredible.
 
"As a team, I think we can win about every one of our meets."
 
Iowa returns to action at the Woody Greeno Invitational on Sept. 16 in Lincoln, Nebraska.