Hawkeye Fan Shop — A Black & Gold Store | 2017 Football Season Tickets | Kinnick Edge | Fight For Iowa | VIDEO — Ihmir Smith-Marsette
Editor's Note: The following first appeared in the University of Iowa's Hawk Talk Daily, an e-newsletter that offers a daily look at the Iowa Hawkeyes, delivered free each morning to thousands of fans of the Hawkeyes worldwide. To receive daily news from the Iowa Hawkeyes, sign up HERE.
By DARREN MILLER
hawkeyesports.com
 
IOWA CITY, Iowa — Iowa football finished its 2017 recruiting strong when wide receiver Ihmir Smith-Marsette committed on the eve of signing day.
 
With Smith-Marsette making big plays, the Hawkeyes finished strong Sept. 9 at Iowa State with a 44-41 victory. Smith-Marsette contributed a touchdown reception in the fourth quarter and the game-winner in overtime.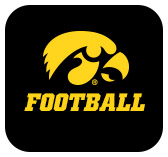 In the Iowa Corn Cy-Hawk Series matchup, he had four receptions for 36 yards and two touchdowns.
 
On the bus ride back to Iowa City, Smith-Marsette grabbed a seat next to senior running back Akrum Wadley, a fellow student-athlete from Weequahic High School in the inner city of Newark, New Jersey. Wadley also scored twice against the Cyclones — rushing for 118 yards and a touchdown and catching four passes for 72 yards and another score.
 
"It was kind of a Weequahic reunion," Iowa head coach Kirk Ferentz said. "I'm sure coach (Brian) Logan and everyone back at school is proud of him."
 
"We were talking about this being stuff we dreamed of growing up," Smith-Marsette said. "Playing on the DI level and making big plays."
 
Because of a four year difference in age, Wadley and Smith-Marsette were not teammates for Weequahic. But Smith-Marsette knew a lot about Wadley.
 
"My coaches talked about him and said he was somebody we should look up to," Smith-Marsette said. "He was a big figure around Weequahic. Once I got the opportunity to come to Iowa and meet him and start to get cool with him, he showed me around, and we hit off. It felt like I knew him."
 
Smith-Marsette also carried the ball once at Iowa State for seven yards. Typically that wouldn't be newsworthy, but in his first game as a Hawkeye — on his first rushing attempt — Smith-Marsettte picked up four yards before fumbling.
 
"That was a tough break, it was his first carry in college and it's not easy playing the first time in a major college football game," Ferentz said. "We were going to come back to him in that game, but we just didn't get the opportunity."
 
It was a long seven day wait for Smith-Marsette, but he appreciated the confidence shown in him during the week by coaches and teammates.
 
"When I came back to practice, everybody kept me up," Smith-Marsette said. "It was like a lean on me, lean on you thing and I bounced off my teammates' energy. I'm happy the coaches believed I could make up for it; they trusted to put me in the Iowa State game and I came through on some plays. I'm happy they gave me a second chance."
 
At Iowa State, quarterback Nate Stanley opened the second series for the Hawkeyes by finding Smith-Marsette on a 9-yard gain for Iowa's first completion. Seven plays later, Smith-Marsette carried the ball seven yards to the Cyclone 10. Iowa scored on the next play.
 
Like any true freshman, there is plenty for Smith-Marsette to learn. In his case, that is amplified by the fact he didn't play organized football until his sophomore season of high school. But he spent many hours playing street ball with cousins on a dead end street in Newark. Even though Smith-Marsette was a football fan, it wasn't his original sport of choice.
 
"I was a swimmer and water polo player," he said. "I ran track and started playing football my sophomore year. My freshman year I tried to play basketball, but that didn't work out. I tried to play baseball — I was alright at it, I just didn't finish it. I started to play football and fell in love with it."
 
Iowa wasn't the only Big Ten program to identify his talent. Rutgers offered a scholarship, so did Minnesota. But Smith-Marsette felt most comfortable in Iowa City.
 
"(Iowa City is) a comfortable setting and out here I felt I could grow into a man," he said. "The coaches are not a baby sit-you type of coaching staff. It's on you to become a man and that's what I like. I don't want to be baby sat. The coaching staff here (lets you know) it's on you to play, make plays, and grow into a man. That's what I need, I don't need to be babied."
 
Wadley and Smith-Marsette awaken memories of other recent playmaking Hawkeyes from New Jersey, like NFL running backs Albert Young and Shonn Greene.
 
"To be able to put on for New Jersey and our school is a blessing," Smith-Marsette said. "It's great for both of us to be able to come out here and put tremendous effort into the game and make big plays to help the team. It's a big thing back home. Everyone can't believe these two are from the same place doing big things for their school (in Iowa). It is a great feeling."
 
The Hawkeyes (2-0) return to action Sept. 16 to play North Texas (1-1) inside Kinnick Stadium. Tickets still remain and can be purchased HERE.