Hawkeye Fan Shop — A Black & Gold Store | 2017 Football Season Tickets | Kinnick Edge | Fight For Iowa | Coach Ferentz Transcript (PDF) | Postgame Notes (PDF) | Photo Gallery | Box Score (PDF)
By RICK BROWN
hawkeyesports.com
 
IOWA CITY, Iowa — Akrum Wadley and James Butler have given the University of Iowa football team a potent one-two punch at running back this season.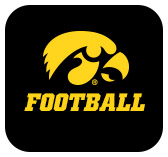 But you can never have enough running backs. Wadley left Saturday's 31-14 victory over North Texas with an ankle injury in the second quarter. Butler was knocked out of the game with an apparent elbow injury midway through the third quarter with the Hawkeyes trailing, 14-10.
 
Redshirt freshman Toren Young was next man in in his first collegiate game. As the medical staff attended to Butler, senior wide receiver Matt VandeBerg came up to Young on the Iowa sideline.
 
"He told me to do what I've been doing all spring and fall," said Young, a 5-foot 11-inch, 220-pounder from Madison, Wisconsin. "He said, "Just run hard, keep the ball secure, and do what you do.' That gave me a lot of confidence. I was more comfortable going in."
 
It was time for Ivory Kelly-Martin to show his stuff at running back as well, with Wadley and Butler out. And this youthful one-two punch helped carry the Hawkeyes to victory.
 
Young had a team-high 19 carries for 78 yards. Kelly-Martin, a 5-11, 195-pounder from Plainfield, Illinois, had 11 carries for 74 yards and a pair of touchdowns as the Hawkeyes improved to 3-0.
 
"They were a big part of us winning this game," said Iowa head coach Kirk Ferentz.
 
Young was poised to be Wadley's backup this season. But Butler, a graduate transfer and 1,000-yard rusher at Nevada the past two seasons, was a late addition. Young took the addition of Butler in a positive way.
 
"You have to be ready for whatever's best for the team," Young said. "We were bringing in an experienced senior running back. I had no experience. Bringing in a senior with great numbers, that's going to help the team. So I was excited about it."
 
Young didn't see a snap the first two games this season, but Ferentz talked to him and told him his time would come.
 
"He told me to keep working hard and stay patient," Young said.
 
Butler got hurt during a 14-play, 76-yard drive that gave Iowa a 17-14 lead with 4:24 remaining in the third quarter. Young got two carries in the drive after Butler went down, and Kelly-Martin one.
 
Iowa increased its lead to 24-14 on a 16-play, 78-yard drive. Young had 11 carries for 40 yards. Kelly-Martin had three carries for 37 yards, including a 23-yard burst. He finished the drive with his first career touchdown, from 2 yards out.
 
The Hawkeyes made it three touchdowns in three possessions to put the game away. Kelly-Martin had six carries in the drive for 29 yards, the last 6 on his second touchdown run.
 
Young and Kelly-Martin, who had logged some experience this season on kickoff returns, give a glimpse of Iowa's future at running back. Young is a power back.
 
"I've always been a downhill runner, a north-south guy," Young said. "I try to be physical. I like to lower my pads."
 
In other words, he doesn't mind hitting guys.
 
"No, sir," Young said.
 
Kelly-Martin brings speed to the position.
"He's very quick, and he doesn't like to get tackled," Young said. "He's able to run past people and make a move on guys."
 
Young and Kelly-Martin are part of a youth movement in Iowa uniforms. On one possession in the fourth quarter, there were three true freshmen on the field — Kelly-Martin and wide receivers Ihmir Smith-Marsette and Brandon Smith.
 
True freshmen A.J. Epenesa (defensive end), Tristan Wirfs (offensive tackle) and Matt Hankins (cornerback) also took snaps Saturday. True freshmen seeing the field on special teams were wide receiver Max Cooper and defensive back Geno Stone.
 
On Saturday, it was indoctrination by fire for Young and Kelly-Martin, who passed their first test.
 
"Last spring we found out a lot more about Toren," Ferentz said. "He had a great spring.  And then with Ivory, it's more so since August. Both of those guys have practiced well. Toren's a tough, hard-nosed runner. That's his deal. Ivory has impressed us with his ability to focus. He is quietly serious, which is unusual for a guy just out of high school. He has a good skill set on top of it. To me it was no surprise that they played well."
 
Ferentz said he doesn't think the injuries to Wadley and Butler are long-term issues. But he knows that getting Young and Kelly-Martin experience will be beneficial down the road.
 
"I hope those guys are back and healthy to play, because they give the team a good opportunity to win," Young said. "But if not, us young guys have to be ready."