Hawkeye Fan Shop — A Black & Gold Store | 2017 Football Season Tickets | Kinnick Edge | Fight For Iowa | Coach Ferentz Transcript | VIDEO — News Conference Recap | Game Notes vs. Penn State
By DARREN MILLER
hawkeyesports.com
 
IOWA CITY, Iowa — Undefeated versus undefeated. Big Ten Conference opener. Nationally-televised night game inside Kinnick Stadium.
 
The University of Iowa (3-0) opens its conference football schedule at home Saturday against No. 4 Penn State (3-0). Kickoff is set for 6:42 p.m. (CT) and the game will be televised by ABC.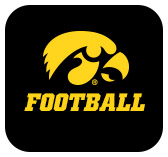 "You can't help but be excited," Iowa head coach Kirk Ferentz said Tuesday at his weekly news conference in the Stew and LeNore Hansen Football Performance Center. "There's something about night games, I don't know if it takes you back to when you were in high school playing, but I think it's a lot of fun for everybody to be involved in."
 
An electric atmosphere is a bonus, but as Ferentz cautioned, "it's not going to guarantee anything."
 
Especially when you look at the nationally ranked Nittany Lions. They have allowed just two touchdowns all season — both against Pittsburgh during a 33-14 victory. The other wins were 52-0 over Akron and 56-0 over Georgia State.
 
"We realize we have to play our best and our highest possible level if we're going to be competitive in this football game," Ferentz said. "That's where we're focused right now."
 
The same teams played a night game last season in University Park, Pennsylvania, and it was all Penn State. The Nittany Lions led 21-0 midway through the second quarter, extended the lead to 41-7, and won 41-14.
 
"The only thing we might have been alright with last year would be the coin toss, and I'd have to look that up; we probably lost that, too," Ferentz joked. "There wasn't much out of that tape we can take, and that's one of the tricks right now. We're looking at it, but there's just not a lot there. All I know is we're playing a team that's really good and we're going to have to play better than we did last year, that's for sure."
 
Penn State was led in last year's game by running back Saquon Barkley, who had 20 carries for 167 yards and a touchdown. He also caught a 44-yard touchdown pass from quarterback Trace McSorley, who completed 11-of-18 for 240 yards and two touchdowns. Barkley and McSorley once against lead a Penn State offense that averages 469 yards and 47 points a game.
 
"The big thing is you have to be sound with your technique, and everybody has to be on the same page," Ferentz said. "All that being said, when you play a guy like (Barkley), he's going to make some plays on his own because he's not your average back.
"So if that happens, it happens. You've got to keep playing, get up, and keep playing. What we can't do is give him yards that are uncontested. If we do that, I can tell you what the result is going to be. It's easy to predict."
 
Good news for the Hawkeyes is that running back Akrum Wadley is practicing and available Saturday, despite sitting out much of last week's 31-14 win over North Texas. Last season at Penn State, Wadley carried the ball nine times for 28 yards and caught five passes for 32 yards, including a 12-yard touchdown that reduced Penn State's lead to 21-7.
 
The Nittany Lions compiled 359 rushing yards against Iowa last season while the Hawkeyes picked up 30 yards on 26 carries.
 
"Our plan will be to utilize all three (running backs)," Ferentz said. "The good news is the other two guys (freshmen Toren Young and Ivory Kelly-Martin) did a good job (against North Texas). It was a good chance for them to get their feet wet and do some good things. Hopefully they'll continue to practice well. They have to plan on playing."
 
Young led the Hawkeyes on the ground last week with 78 yards on 19 carries. He was followed by Kelly-Martin with 74 yards and two touchdowns on 11 attempts.
 
The week after Iowa played at Penn State last season, the Hawkeyes upset No. 2 Michigan, 14-13, in a night game in Kinnick Stadium. In fact, after the loss to the Nittany Lions, Iowa has won three consecutive Big Ten games.
 
Revenge isn't a motivator, Ferentz said, because many of the current Hawkeyes didn't even make the trip a year ago. A priority for Iowa this week is to reduce penalties (19 for 172 yards this season) and improve ball security (five lost fumbles).
 
"Our motivation is basically to play our best for 60 minutes, and that's what it's going to take to be victorious," Ferentz said.