Hawkeye Fan Shop — A Black & Gold Store | 2017 Football Season Tickets | Kinnick Edge | Fight For Iowa | ANF Web Site
Editor's Note: The following first appeared in the University of Iowa's Hawk Talk Daily, an e-newsletter that offers a daily look at the Iowa Hawkeyes, delivered free each morning to thousands of fans of the Hawkeyes worldwide. To receive daily news from the Iowa Hawkeyes, sign up HERE.
By DARREN MILLER
hawkeyesports.com
 
IOWA CITY, Iowa — Opportunity and hard work allowed high school sweethearts Alan and Julie Greenway to become successful farmers in Mount Vernon, South Dakota.
 
Their observant youngest son, Chad, knew the farm was his family's lifeblood.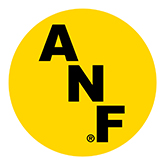 "It was our everything," Chad said. "We put every dollar we made back into that place."
 
The Greenways sold 6,000 pigs a year, raised 200 cows, and farmed a couple thousand acres of corn and soybeans. Chad savored the responsibility and leadership of the start-to-finish approach it took to be an effective farmer. His parents led by example.
 
"For me, it was more watching and monitoring how my parents operated," Greenway said. "I had a great work ethic on the farm because I was told I was going to have a great work ethic by what my parents expected me to do every day."
 
Greenway is the sixth recipient of the America Needs Farmers (ANF) Wall of Honor that salutes former University of Iowa football players who exemplify the tenacity, work ethic, and character of the Iowa farmer.
 
As a Hawkeye from 2002-05, Greenway was a three-time All-Big Ten selection. He compiled 416 tackles, 31 tackles for loss, 20 pass breakups, seven sacks, and four interceptions. Iowa won 38 games with him in the lineup.
 
"I have two Big Ten rings (for championships in 2002 and 2004)," Greenway said.  "We had great years and I played with some unbelievably great players — Bob Sanders, Robert Gallery, Bruce Nelson, Abdul Hodge, Jonathan Babineaux, Sean Considine, Derek Pagel — all these guys who came from that era of Iowa football. I got a chance to be around them, know them, watch them, and learn from them. They are great people."
 
After college, Greenway became one of the finest linebackers in Minnesota Vikings history. He was the 17th selection in the 2006 NFL Draft and played his entire 11-year career for the Vikings. Before retiring after the 2016 season, Greenway made 1,334 tackles with 18 sacks and 11 interceptions. He played in two Pro Bowls and three times was named Minnesota's defensive MVP.
 
"I went to Iowa with an open mind and my only job was to work hard," Greenway said. "With that mentality at Iowa, if you have some ability on top of it, you can achieve anything."
 
Greenway was a start-to-finish kind of guy at Mount Vernon High School, where he was a nine-player football star and was South Dakota's Gatorade Player of the Year in 2001. About the only thing missing for him was a Division I college scholarship and University of Iowa assistant coach Reese Morgan and head coach Kirk Ferentz changed that.
 
Morgan made the seven-hour car ride from Iowa City, Iowa, to Mount Vernon, South Dakota, and eventually made Greenway the only person in the state that year to receive a Division I scholarship.
 
The scholarship brought stress.
 
"Am I good enough to go from a nine-man football team with a graduating class of 26 kids to Big Ten football? Am I going to play?" Greenway remembers thinking. "There is no bigger fear in anyone's world than failure. For me, that failure would have been coming back home after not making it at Iowa. You could say I had a huge chip on my shoulder to prove myself wrong for having that doubt."
 
Greenway sees similarities between successful farming and becoming an All-State, All-Big Ten, All-America, and All-Pro linebacker.
 
"As I grew older, matured, and went to college, I could lean on the experiences of watching my parents work; seeing them put all the work in every day for a year and not get immediate results," Greenway said. "The example of, 'I might be a great football player down the road, but it is going to take day, after day, after day stacked on top of each other to become great.'
 
"In farming, you can't expect immediate results; it is something that is built over time. My football career was the same way."
 
Chad and his wife, Jenni, reside 20 miles west of Minneapolis with their four children, ages 10 years to nine months. He has a corporate speaking business and has taken positions on his children's athletic associations. Greenway is also chair of all volunteers for Super Bowl LII that will be held Feb. 4, 2018, in U.S. Bank Stadium in Minneapolis.
 
In his speeches, Greenway touches on leadership, making a difference, and seizing opportunities. He shares the winding path of his life and the mentality it took to go from a community of 400 to an NFL superstar. Every speech, regardless of the audience, contains a constant subject. 
 
"Iowa football is in every one of them," Greenway said.
 
Greenway is grateful for his time at Iowa and for his rural roots. His father, Alan, passed away in 2014, but his mother, sister, and uncle continue to operate the family farm — the same successful farm that was built over time, day after day after day.
 
A lot like Greenway's football career.