Hawkeye Fan Shop — A Black & Gold Store | 2017 Football Season Tickets | Kinnick Edge | Fight For Iowa | Freshman Spotlight: Geno Stone | Freshman Spotlight: Ihmir Smith-Marsette | Freshman Spotlight: Ivory Kelly-Martin | VIDEO — A.J. Epenesa
Editor's Note: The following first appeared in the University of Iowa's Hawk Talk Daily, an e-newsletter that offers a daily look at the Iowa Hawkeyes, delivered free each morning to thousands of fans of the Hawkeyes worldwide. To receive daily news from the Iowa Hawkeyes, sign up HERE.
By DARREN MILLER
hawkeyesports.com
 
IOWA CITY, Iowa — It wasn't anything Jared DeVries, Tim Dwight, or Jon LaFleur said to A.J. Epenesa during the recruiting process that convinced him to become an Iowa Hawkeye.
 
All Epenesa had to do was observe.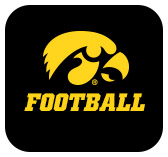 A.J.'s father, Eppy, lettered for the University of Iowa football team in 1997. His teammates included DeVries, Dwight, and LaFleur and the former Hawkeyes remain close friends.
 
"I wouldn't say I had heroes of Iowa football other than my dad growing up," A.J. said. "I knew a lot of the guys my dad knew; we were close to Jared DeVries, Tim Dwight, Jon LaFleur — some of the guys my dad played with back in the day."
 
Epenesa, a five-star recruit, had his pick of colleges. He wanted to go where chemistry is king and friendships last a lifetime.
 
"It's cool to know that at a place like this you keep your friends or brothers your entire life," A.J. said.
 
It was a bonus to have a father who played for the Hawkeyes and a mother who also graduated from the University of Iowa. A.J.'s father was LaFleur's backup at right defensive tackle in 1997 when the Hawkeyes finished 7-5 and lost to Arizona State in the Sun Bowl. Playing Division I football was quite an accomplishment for Eppy, a native of the Samoan Islands.
 
"My dad loved it, it was an opportunity that no one from where he came from ever had," A.J. said. "To be one of the first ones to come from the island and do what he did is special. My dad loves everything about this place and I do, too."
 
A.J. is a 6-foot-5, 270-pound defensive end who has played in all three games this season. Listed as a backup to Parker Hesse at right end, Epenesa has made three tackles with 1 ½ sacks and a quarterback hurry.
 
"He has an unnatural skill set for a guy that age," Iowa head coach Kirk Ferentz said of Epenesa, who turned 19-years-old on Sept. 15. "He is mature, strong, and powerful, but he also has a good attitude. He works hard and is not overwhelmed by the guys he works against. He isn't hesitant to play aggressively."
 
Epenesa also competed in basketball and earned All-America honors in the discus at Edwardsville (Illinois) High School. Even though he is one of the highest rated recruits the Hawkeyes have signed in many years, Epenesa isn't satisfied with past achievements.  
 
"I knew coming in that I had to work to earn everything," Epenesa said. "That is the mindset I have had the whole time I have been here.
 
"The recruiting rankings are completely irrelevant to anything that has happened since I have been in Iowa City. No one cares, I don't care — we don't talk or think about it and we try to work and get better."
 
In his first collegiate game, a 24-3 Iowa win over Wyoming on Sept. 2, Epenesa made two tackles with a quarterback sack. The next week, during a 44-41 overtime win at Iowa State, Epenesa and sophomore teammate Anthony Nelson had an assisted sack on Cyclone quarterback Jacob Park. Nelson's father, Jeff, also played football for Iowa, lettering from 1990-92.
 
Ferentz said Epenesa works hard in practice and has taken advantage of his playing time. The true freshman knows improvement is needed before he becomes an every-down player.  
 
"I'm not where I need to be overall as a player," Epenesa said. "I'm doing decent when it comes to pass rushing, so that's what my role is now. I'm going to continue to get better and hopefully my role will increase."
 
Iowa heads into its Big Ten opener against No. 4 Penn State on Saturday with a 6:42 p.m. (CT) kickoff.