Hawkeye Fan Shop — A Black & Gold Store | 2017 Football Season Tickets | Kinnick Edge | Fight For Iowa | VIDEO — Iowa, Michigan State Moments
Editor's Note: The following first appeared in the University of Iowa's Hawk Talk Daily, an e-newsletter that offers a daily look at the Iowa Hawkeyes, delivered free each morning to thousands of fans of the Hawkeyes worldwide. To receive daily news from the Iowa Hawkeyes, sign up HERE.
By DARREN MILLER
hawkeyesports.com
 
IOWA CITY, Iowa — Seven seasons before Mark Dantonio became head coach at Michigan State, the University of Iowa stunned the 25th ranked Spartans, 21-16, in Kinnick Stadium.
 
It was the first Big Ten Conference victory for Iowa head coach Kirk Ferentz, who at that point with the Hawkeyes was 1-15. Michigan State dominated the yardage battle, 466 to 231, but Iowa capitalized with big plays.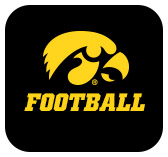 "That was an interesting, memorable game," Ferentz said. "Michigan State had the statistics, but Kahlil Hill ran a (90-yard) kickoff back that gave us a spark. We also hit a (43-yard) tunnel screen to Kevin Kasper. Those plays made a big difference."
 
Ferentz has won 136 games since and the series against Michigan State has remained one of the most competitive in the league.
 
For Ferentz, the rivalry goes back to the early 1980s when he was an assistant coach for the Hawkeyes. In 1984, Iowa quarterback Chuck Long was stopped short on a 2-point conversion with 44 seconds remaining, preserving a 17-16 Michigan State win.
 
In 1985, Long boot-legged around right end for a 2-yard touchdown with 27 seconds remaining to give Iowa a 35-31 win.
 
From 1983-90, Iowa held a 5-3-1 edge in the series. The average score during that span was 17-16 in favor of the Hawkeyes.
 
Ferentz and Dantonio will face off for a ninth time Saturday in East Lansing, Michigan. The series between the coaches, which includes two games decided in double overtime and another in the 2015 Big Ten Championship Game, is knotted, 4-4. The teams did not meet in 2014 or 2016.
 
"When I first came to Michigan State, I said 'Who do we want to be like?'" Dantonio said. "I looked across the way and said we want to be like Iowa. We're going to run the football, win on defense, play great special teams, and win at a high level, which is what (Ferentz) has been able to do. We patterned ourselves after the things he did."
 
Iowa fans remember Marvin McNutt's 7-yard touchdown reception from Ricky Stanzi as time expired on a 15-13 Hawkeye win in 2009. McNutt said he is reminded of the wild finish at least twice a week.
 
"I cherish a moment like that I can share with Hawkeye fans," McNutt said. "Our games with Michigan State were tough, close games because we are similar in styles and how we recruit.
 
"They have a great program and it is a good rivalry. It is a game I always had circled because I knew it would be hard-hitting, tough football."
 
Michigan State fans remember Adam Decker's fourth-down tackle for a 3-yard loss on Shonn Greene to seal the Spartans' 16-13 win in 2008.
 
Iowa fans remember the game in 2010 when fifth-ranked Michigan State came to Kinnick Stadium and limped home after throwing three interceptions and losing, 37-6.
 
And who could forget the most recent meeting Dec. 5, 2015, in the Big Ten Championship at Lucas Oil Stadium in Indianapolis. It was third-and-goal from Iowa's 1-yard line with 33 seconds remaining. Dantonio called timeout and on the next play running back L.J. Scott scored to give Michigan State a 16-13 victory.
 
"Through the years we have had some great games back and forth," Ferentz said. "I think there have been two comfortable wins in there — one for them, one for us — and I don't think anyone saw either of those coming."
 
In the last eight Iowa-Michigan State games, the Hawkeyes have scored 166 points, the Spartans have scored 157. Iowa spoiled Michigan State's Homecoming in 2012, the Spartans returned the favor at Iowa's Homecoming in 2013.
 
"It has been a great series," Dantonio said. "I have a tremendous amount of respect for coach Ferentz. He had stability and continuity on his coaching staff; a lot of the things he has been able to accomplish, we have tried to do as well."
 
Since 2007, Iowa has gone to eight bowl games and won 83 games; Michigan State has been to nine bowls and won 92 games.
 
"He has endured the process as well," Dantonio said. "You have seen his teams rise up, level off, and re-accelerate themselves, much like we have."
 
Iowa (3-1 overall, 0-1 Big Ten) and Michigan State (2-1, 0-1) kick off Saturday at 3 p.m. (CT) inside Spartan Stadium. Fans can expect a close, physical football game.