Hawkeye Fan Shop — A Black & Gold Store | 24 Hawkeyes to Watch – 2017-18 | Hawk Talk Monthly — September
By JACK ROSSI
hawkeyesports.com
IOWA CITY, Iowa — LeVar Woods entered the 2017 season with a little more on his plate with a new title – special team coordinator. Now leading Iowa's specialist and tight ends, Woods is excited for the challenge.
A three-year letterwinner at Iowa, Woods returned to the Hawkeyes in 2008 as an administrative assistant and saw his role expand from linebackers coach to tight ends coach to special teams assistant and now special teams coordinator and tight ends coach.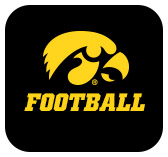 "There is the challenge with the tight ends where we are now in week five and some of that youth should start going away," Woods said. "Then there is the challenge of seeing what we are doing overall on special teams and dealing with specialists. They are unique challenges, but it has been fun,"
Woods has helped developed many NFL talents while at Iowa, the seven-year NFL veteran has coached athletes such as Christian Kirksey, Anthony Hitchens, Henry Krieger-Coble, and George Kittle. Woods will look to do the same with a redshirt freshman TJ Hockensen and sophomore Noah Fant.
"Those guys are incredibly talented," Woods said "We don't want to keep repeating mistakes and both those guys are willing learners and capable and they aren't the only talented guys in the room."
The offensive coaching staff has gone through a lot of change since end of last season leaving Woods and new offensive coordinator Brian Ferentz as the only two returning coaches from a year ago.
"It's an entirely new room," Woods said. "Ken (O'Keefe) is back and it is fun for me because I had never worked with him before. I was always on the other side, but coach (Kelton) Copeland and coach (Tim) Polasek bring a new energy and a different vibe to the room."
But Ferentz is the one that brings all the coaches together at the end of the day.
"Brian has done an incredible job and is incredible sharp," Woods said. "As we start to develop chemistry as an offensive staff and the players start to develop, you will see more from the offense and it will be more exciting."
While the offense is a major aspect of the team, special teams is an area that changes the course of games and, in certain cases, wins them. Woods realizes what that group needs to be in order to have a winning program.
"It starts in spring football," Woods said. "We work like crazy to develop skills in drills that we do. Everybody on the roster goes through these skills and we identify guys who can play on special teams as core special teamers in returners and positions like that."
As the season goes along, Woods will assess his offense and defense and see where they can fit into his special teams unit.
"We have starters on our kickoff unit and our kick return unit," Woods said. "We had Akrum Wadley back there, so whoever can get the job done will get an opportunity to do it."
The Hawkeyes (3-1, 0-1) play at Michigan State (2-1, 0-0) Saturday.  Kickoff is at 3:12 p.m. CT.  The game is televised on FOX.