Hawkeye Fan Shop — A Black & Gold Store | 24 Hawkeyes to Watch – 2017-18 | Fight For Iowa
IOWA CITY, Iowa – After a long summer of training and racing, Nathan Mylenek has returned for his sophomore season with the Hawkeyes without breaking stride.
Mylenek competed in the Junior Pan American Games in Trujillo, Peru, last July where he took home the silver medal in the 3,000-meter steeplechase with a time of 9:00.70.
"It was a lot of fun to travel to Peru and wear the same uniform the pros wear," said Mylenek. "The Pan Am games were more of a tactical race. It's nice to know that when it comes down to a tactical race, like regionals, I can still preform."
"It shows us that he's wildly talented," said UI head coach Randy Hasenbank. "It usually takes a few years to get to the marks that he pulled off as a true freshman. So it speaks to his ability and hopefully the Pan Am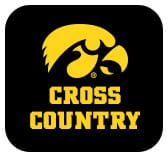 games give him some confidence going into the cross country season to take the next logical step in his progression."
The Clarkston, Michigan, native wasted no time getting back to racing at a high level after he returned from Peru. In his first race of the 2017 season, Mylenek cracked the men's all-time top 10 list in the 6,000 meters with a time of 18:26.
"I was shocked by that," said Mylenek. "After training and racing all summer, I wasn't expecting to run right away. The race wasn't at all what I wanted. I wish I could've run better, but getting into the top 10 is pretty awesome, and I'm not done yet."
On Sept. 16, the sophomore went on to win the men's 8,000 meters at Woody Greeno Invite in Lincoln, Nebraska, with a time of 25:42.8. The Hawkeyes had three of the top five finishers and won the team race with 29 points.
"Nate raced late into the summer so we wanted to make sure he didn't overdo it," said Hasenbank. "We focused on training and didn't want to go crazy at the Hawkeye Invite. Two weeks later, I felt like he was a little more ready and he felt good. So we let him run, and he obviously had a great race. He was smart and tactical about the race."
Although only sophomore, Mylenek is quickly gaining the confidence and fitness to become a leader as the Hawkeyes continue their 2017 season.
"I don't usually expect freshmen to take on too much leadership," said Hasenbank. "This year, in addition to running so well in the spring and at the Pan Am Games, he's come back and been a little more fired up about being a leader and challenging the guys and encouraging them in practice. It's nice when your best athlete also has great leadership qualities."
The Hawkeyes will compete at the Joe Piane Invitational on Friday, Sept. 29, in South Bend Indiana before wrapping up the regular season at the Bradley Invite on Oct. 13, in Peoria, Illinois.
.