Hawkeye Fan Shop — A Black & Gold Store | 2017 Football Season Tickets | Kinnick Edge | Fight For Iowa
Editor's Note: The following first appeared in the University of Iowa's Hawk Talk Daily, an e-newsletter that offers a daily look at the Iowa Hawkeyes, delivered free each morning to thousands of fans of the Hawkeyes worldwide. To receive daily news from the Iowa Hawkeyes, sign up HERE.
By DARREN MILLER
hawkeyesports.com
 
EAST LANSING, Mich. — Good things happen when University of Iowa tight ends Noah Fant and T.J. Hockenson get their hands on a football.
 
Entering Saturday's Big Ten Conference crossover game at Michigan State, Fant (eight receptions) and Hockenson (five) had combined for 13 pass receptions. All 13 resulted in either a Hawkeye first down or touchdown.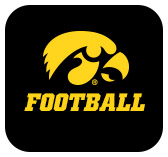 That streak was extended against the Spartans when, on Iowa's second play from scrimmage, Hockenson caught an 11-yard pass from Nate Stanley for a first down. On Iowa's final play of the first quarter, Fant caught a 10-yard pass from Stanley to move the chains on the Hawkeyes' first scoring drive.
 
"I try to increase my role every week, just like everyone else on our team," Hockenson said.
 
Hockenson led the Hawkeyes at Michigan State with three receptions for 46 yards and a long of 22. All three catches were good for an Iowa first down.
 
"It's nice to see Stanley look for me on third down," Hockenson said. "I just try to do my job and catch the ball."
 
Fant has caught three touchdown passes this season — two in the opener against Wyoming and one against North Texas. Hockenson's lone scoring grab came against North Texas.
 
The Fant-Hockenson success streak ended on the final play against the Spartans when Fant caught an 11-yard pass on third-and-19.
 
Even then, 17-for-18 isn't too bad.
 
24 Straight Games with a Reception
Sure-handed senior wide receiver Matt VandeBerg extended his streak of consecutive games with a reception to 24 when he took a tunnel screen 10 yards for a first down on Iowa's scoring drive in the first quarter. He finished the game with three receptions for 31 yards and a long of 16.
 
"Coaches design a game plan and try to put us in the best position to be successful," VandeBerg said. "Obviously I was able to have three catches."
 
So far this season, VandeBerg has 13 catches for 138 yards and a touchdown.
 
VandeBerg was held without a reception during Iowa's 37-34 overtime loss to Nebraska on Nov. 28, 2014. In the next 24 games he has caught 99 passes for 1,159 yards and nine touchdowns.  The closest the streak came to ending was during a 40-20 victory over Purdue on Nov. 21, 2015, in Kinnick Stadium. VandeBerg's only catch that day was a 7-yard touchdown from C.J. Beathard.
 
He caught nine passes at Iowa State in 2015 and had 129 receiving yards against the Cyclones in 2016.
 
"It doesn't mean much now," VendeBerg said of the streak. "If we would have had 24 wins, then that would be different. As far as (statistics), it doesn't matter as long as we get the win; that's all I care about is that we win as a team."
 
Big Ten Tackle Leader
Josey Jewell entered the game at Michigan State leading the Big Ten with 44 tackles. When his day was through against the Spartans, Jewell matched a career-high with 16 stops (six solo); three were tackles for a loss.
 
That leaves Jewell, a senior linebacker, with 60 tackles in the first five games (12 per game). Del'Shawn Phillips of Illinois has 40 tackles in four games and Paddy Fisher of Northwestern has 36 in four games.
 
"We have to get a win next week (against Illinois)," Jewell said. "That will be important heading into our bye week."
 
Field Position Football
Iowa was outgained 300-231 on Saturday at Michigan State and much of the disparity can be attributed to starting field position.
 
On average in the first half, Michigan State began drives for its own 44-yard line. Conversely, the Hawkeyes started drives form their own 21.  
 
"I thought that was the story in the first half," Iowa head coach Kirk Ferentz said. "They put us in a bad position by driving and punting it down there when we had our work cut out and then we couldn't flip it back the other way."
 
8 for Nate
Stanley completed passes to eight different receivers at Michigan State. He finished 16-for-31 for 197 yards and the 16 completions were spread to Hockenson, Fant, VandeBerg, Akrum Wadley, Nick Easley, Ihmir Smith-Marsette, Ivory Kelly-Martin, and Brandon Smith.
  
"We have to do what we can do to take advantage of the defense," Stanley. "They were bringing a lot of pressure and that's one way we could beat that."
 
A ninth Hawkeye — defensive end A.J. Epenesa — caught a 15-yard pass from punter Colten Rastetter on a fake field goal.
 
Stanley connected with nine different receivers during a 44-41 overtime win at Iowa State on Sept. 9.