Hawkeye Fan Shop — A Black & Gold Store | 24 Hawkeyes to Watch – 2017-18 | Fight For Iowa | VIDEO — Sunday Conversation with Coach Ferentz
By DARREN MILLER
hawkeyesports.com
IOWA CITY, Iowa — Three of Iowa's five football games this season have been decided by a touchdown or less. For a second consecutive week, the Hawkeyes were on the short end of a close final score, falling 17-10 at Michigan State on Sept. 30.
 
"The bottom line, to win in the Big Ten you have to be tough and competitive," Iowa head coach Kirk Ferentz said Sunday. "Whether it is on the road or at home, you have to expect every game to be a close game and you have to find a way to be successful."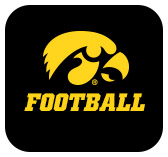 After falling behind 14-0 in the first quarter, Iowa allowed just one field goal over the final 30:43.
 
Ferentz pointed to a slow start by the Hawkeye defense that allowed 102 yards and eight first downs in the first quarter.
 
"The biggest thing goes back to the first part of the game where we — and give Michigan State credit — they picked on us and found a couple little areas where they were able to exploit us," Ferentz said. "We made the adjustments and settled down a little and played better defense the last three quarters."
 
Two third quarter turnovers by Iowa — one on Michigan State's 7-yard-line and the other on the Michigan State 41 — were costly.
 
"We came out in the second half and moved the ball well and unfortunately turned it over twice," Ferentz said. "In both instances I'm pretty confident we would have scored, whether it be a field goal or touchdown. How it would have impacted the fourth quarter, nobody will know."
 
Field Position
"Offensively we started slow and didn't have good field positon in the first half — that's two weeks in a row where we have been in that position and haven't been able to change that. That is the next thing on our list; if we're going to be successful we're going to have to not necessarily score, but we have to move the ball out to a decent position and then punt it down and give our defense good field positon. That's a battle we're going through."
 
Seeing Improvement in Young Players
"There is no magic keys to any of this stuff. Every team is a little different and right now our defense and offense are a little different in terms of the way they are constructed. You think about a veteran like (senior) Josey (Jewell) playing middle linebacker compared to a first-year player like (sophomore) Nate Stanley playing quarterback. There are things you have to keep in mind, but the bottom line is we have to keep practicing, try to practice better, and then make sure as coaches we're getting our player a good plan, one that is workable on game day. We have to do a little better job with our planning and hopefully our players will continue to improve. You keep chipping away at it and hopefully you get that breakthrough moment where things start to flow a little bit better for you."
 
Facing Illinois for Homecoming on Oct. 7
"We asked the guys to focus on a six-week schedule, then we would re-assess everything during our bye week. It is as simple as that right now: We have 5 ½ days to get ready for the Illinois ball game, that's all that counts to us right now. After we finish this game we will assess where we are and where we need to go. The big thing is what can we do during this short week of time to make sure we're most improved and most able to play a good game against Illinois?"
 
Iowa (3-2 overall, 0-2 Big Ten) takes on Illinois (2-2, 0-1) on Oct. 7 with an 11 a.m. (CT) kickoff from inside Kinnick Stadium. The Hawkeyes have a bye Oct. 14 before playing at Northwestern on Oct. 21.