Hawkeye Fan Shop — A Black & Gold Store | 2017 Football Season Tickets | Kinnick Edge | Fight For Iowa | Players Media Availability | Ferentz Transcript (PDF)
 
By JAMES ALLAN
hawkeyesports.com
IOWA CITY, Iowa — The University of Iowa football team is taking a hard look at itself leading up to Saturday's Homecoming matchup against Illinois inside Kinnick Stadium.
 
Iowa head coach Kirk Ferentz is addressing the team's areas of concern following back-to-back losses to No. 4 Penn State and Michigan State to open Big Ten Conference play.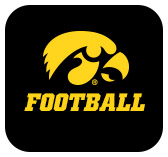 "It's all about us trying to improve on obvious points right now," Ferentz said Tuesday during a news conference inside the Stew and LeNore Hansen Football Performance Center.
 
"Going down the list, it's ball security, the turnover issue is something we are going to have to address, handling the blitz, and then developing a kind of confidence and grit it takes to be successful, home or away."
 
The Hawkeyes are minus-2 in the turnover battle through five games this season, losing eight fumbles and throwing one interception. Iowa lost two fumbles and committed 12 turnovers in 13 games in 2016.
 
"Turnovers make the degree of difficulty that much tougher," said Ferentz. "We have to focus on it and we're going to work on it. Traditionally, it has been something we have been good at.
 
"Ironically, we have worked harder on ball security going back to the spring than we ever have. Maybe that's where we're screwing this thing up."
 
After rushing for 101 yards — 82 against Penn State and a season-low 19 against the Spartans — in its first two Big Ten contests, Ferentz says there isn't a magic formula for righting the ship with the team's running game.
 
"It's repetition and keep working on it," he said. "It's about trying to develop more consistency, being able to sustain it, and part of that is we have to keep working and get our lineups settled in. (We need) to get the guys working together a little more cohesively."
 
The Hawkeyes' offensive line has felt the loss of offensive tackle Ike Boettger, whose season ended following an Achilles tendon injury at Iowa State, and the shuffling of players up front. But Ferentz says the unit has the pieces.
 
"We have enough there and have the right guys," said Ferentz. "It's a matter of pushing forward and we're open to anything right now to help the team in any phase. We're looking at every possibility."
 
With the rushing attack stuck in neutral, Ferentz isn't ready to go down the 2004 path when the team was pass-first after being decimated by injury at the running back position.  The goal is balance.
 
"You go with what you have to go with and whatever is working," said Ferentz. "If you're in a game where you can't run it, and that happens sometimes, then you had better be able to throw it or you're going to be in trouble.
 
"Over the course of the season, our goal is to be balanced, and at this point, I don't see any reason why we shouldn't or couldn't be."
 
Sophomore Nate Stanley and Iowa's passing attack average 211.6 yards, while senior Akrum Wadley and the rushing game average 128.2 yards through the first five weeks.
 
Illinois comes to Iowa City with a 2-2 overall record, 0-1 in the Big Ten. The Fighting Illini have lost consecutive games, falling at No. 22/21 South Florida (47-23) on Sept. 15 and at home against Nebraska on Sept. 29 (28-6) following its bye week.
 
"We have to be ready to play every game in the Big Ten," said Ferentz. "Conference play, you expect it to be challenging and tough. That has to be our approach."
 
The Fighting Illini average 18.2 points and 267.2 yards of total offense. On the flip side, the Illinois defense surrenders 25.8 yards and 427.5 yards.  Both rank in the bottom 1/4 of the conference.
 
Iowa has won eight of the last nine meetings in the series, including three straight.  The Hawkeyes shut out Illinois last season in Champaign, 28-0.  The Illini's last home win over Iowa came in 2008 by a 27-24 margin, but the two teams didn't meet from 2009-13.
 
Saturday's game will kickoff at 11:01 a.m. (CT) and be televised on BTN with Brandon Gaudin, Glen Mason, and Elise Menaker on the call.  Around 1,000 tickets remain through the UI Athletics Ticket Office and can be purchased online or at 800-IA-HAWKS.